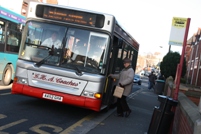 Fare paying passengers move to trains and taxis, with concessions set to outnumber them
Fare-paying passengers may soon be outnumbered by those benefiting from Wales' pioneering free travel scheme, launched 10 years ago.
New statistics show a drop of almost 10% in overall bus passenger numbers in Wales in two years, despite the growing number of over-60s travelling on free passes.
The drop in fare payers contrasts with sustained growth in passengers on Welsh trains, where almost everyone pays to travel.
In April 2002, the Welsh Government pioneered unlimited free bus travel, anywhere in Wales for pensioners and disabled people. The scheme later included men aged 60-plus, entitling people below retirement age to free commuting.
To compensate for carrying passengers for free, bus operators received £30m from the Welsh Government in 2002-03. The figure has since risen to £69m today.
The payments were based on each operator's average single fare, and council officers were soon concerned about operators being tempted to increase single fares. Official figures show Welsh bus fares increased 47% between 2002 and 2011.
Experts say fares are one reason for the contrasting rail and bus trends. Others include punctuality, presentation and the range of services, especially in the evenings.
Stuart Cole, professor of transport at the University of Glamorgan, said bus operators would lose 3% of passengers for every 10% rise in fares, netting them more income overall.
"They're putting fares up knowing they will still be better off, but from a society point of view it may not be a good outcome," he said.
He said car owners now paid more attention to the overall costs of motoring, including wear and tear. Some commuted by train to postpone replacing their cars by two or three years.
He continued: "As bus fares have risen, many people – especially young people – have taken to using taxis. Often they're out in a group, going to more or less the same place. Free bus journeys will continue growing because each year more people become eligible than leave the scheme."
John Pocket, Director of Government Relations at CPT Wales, told CBW: "We're in the second year of a threeyear agreement where the concessionary reimbursement cap has been set at £71m.
"The number of people using the free travel scheme puts reimbursement very close to this cap, showing both the popularity of the scheme and the fact the population is aging."
John said the scheme is envied by other parts of the UK, as it is a good example of three-way cooperation, working well with the operators involved, the Welsh government and local authorities.
"Although fares have increased, operators don't put fares up above what they have to and there are a number of rising costs which must be considered. I would like to see the source of the figures mentioned by Stuart Cole," he added.
The Welsh Government's latest statistics show there were 50.2m free bus journeys in 2011-12. All bus passenger journeys the previous year totalled 113m, down from 125m in 2008-09.
The decline in fare payers is likely to continue or accelerate this year due to large fare rises, up to 55%, which bus operators have blamed on rising costs and reducing grants.
Mr Bigwood said the large number of free journeys could partly reflect misuse of bus passes, and questioned whether bus passes were being awarded too liberally.
Eluned Parrott AM, Welsh Lib Dem Transport Spokeswoman, welcomed the increases in rail passengers and people using bus passes, but added: "It is worrying to see a sharp decline in the number of people choosing to use the bus, especially as this spiral of decline could potentially lead to a decrease in the number of bus routes.
"At a time when household incomes are under strain, the Welsh Labour Government needs to be doing all it can to ensure fare do not continue to rise."
A Welsh Government spokesman said: "To develop a truly sustainable transport network across Wales, we have to provide a realistic and attractive alternative to the car when making every day journeys.
"For example we have invested £2.2m to improve and expand the TrawsCymru bus network so it better meets the needs of local communities. This investment has delivered a new fleet of comfortable low-floor buses."