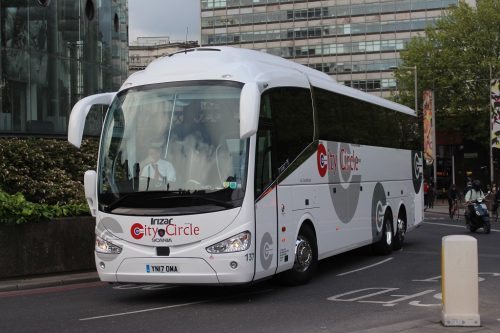 A further 16 Scania Irizar i6 coaches have joined the prestigious fleet of City Circle UK Limited. This additional batch of vehicles represents Scania's largest retail fleet order of the year and takes the number of Scanias operated by City Circle UK to more than 40.
Commenting on the latest additions, Neil Pegg, Managing Director of City Circle UK Limited, said: "The experience we have from the Scania Irizar product for our high-end work has been superb. Our passengers and drivers alike have been highly impressed with the looks, specification level, comfort and performance. The complete package Scania offers with the vehicles is a highly attractive one, and is delivered to an extremely high level."
The new vehicles are all based on Scania's K410 6×2*4 rear-steer chassis and are equipped with Scania's 410hp SCR-only Euro 6 engine, a choice which will ensure the City Circle fleet is now almost 100% Euro 6 powered. To assure maximum efficiency in operation, customer comfort and minimal driveline wear and tear, City Circle UK has specified Scania's fully automated Opticruise gear selection system.
The Irizar i6 bodywork is 13.2m overall length and the vehicles all have 53 luxurious reclining seats with leather and extra padded flaps, sunken toilet/washroom and a Frenzel kitchen located at the centre continental exit. The passenger seats benefit from having seat back tables, magazine nets and footrests, and the body will be finished with extra dark tinted double glazing.
All 16 coaches have WiFi on board, a CCTV system and the added feature of USB charging points to all the passenger seats. The coaches also have Scania's Colour Plus dash feature, offering the driver instant performance information. In turn this is linked to the free fleet management information which is sent direct to the office, ensuring vehicle efficiency can be maximised.
Additional features include Alcoa Dura-Bright alloy wheels, reversing and road cameras and integrated satellite navigation.