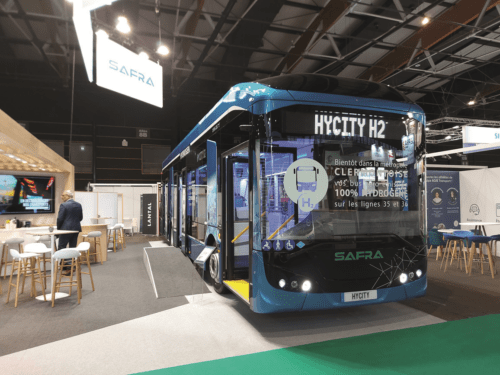 FRANCE
As part of the Clermont Auvergne Métropole and Syndicat Mixte des Transports en Commun de l'Agglomération Clermontoise's (SMTC-AC) global InspiRe energy transition project, with Keolis as prime contractor, an order has been placed for 10 new Hycity hydrogen buses from French manufacturer Safra. The InspiRe project involves the development of a 'unique and innovative' ecosystem dedicated to hydrogen, from the production of 100% carbon-free energy to the fuelling of the vehicle fleet as well as the commissioning of the 10 new buses and four retrofitted coaches.
The 10 new buses, the latest generation from Safra, will be delivered to network contractor Keolis in mid-2024. The new Hycity model replaces Safra's previous hydrogen offer, the unusual Businova.
Under the project, which brings together all the facets of a complete hydrogen ecosystem. Keolis will coordinate all the partner companies involved in the implementation of the project, from the production of renewable hydrogen, to the fuelling of the fleet and the sharing of acquired experience. The 10 Hycity buses are being supplied with a full maintenance contract, and will be operated by Keolis for a period of 10 years, initially on urban lines linking the city centre with the eastern municipalities of Lempdes, Mur-sur-Allier and Pont-du-Château.
"This new contract we've just won is further proof that our new Hycity vehicle perfectly meets our customers' expectations. It's the fruit of long-standing teamwork, and we can't wait to see these 10 vehicles on the Clermont-Ferrand network. The InspiRe project is a great showcase for our latest generation of hydrogen buses, and will enable us to demonstrate to other local authorities the relevance of hydrogen in a policy of decarbonising transport," said Eric Baleviez, CCO of Safra.