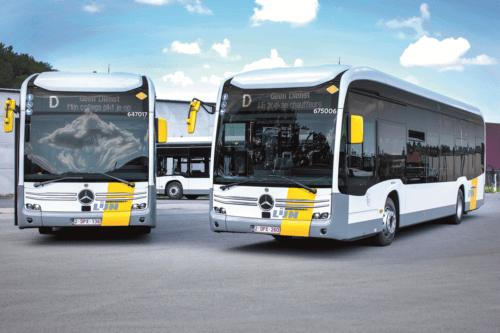 BELGIUM
Regional operator Ferry Cars has put five new Mercedes-Benz eCitaro low-floor electric city buses into service. The operator, based in the city of Eeklo in the north of the Belgian province of East Flander, between Ghent and Bruges, will use use the 12-metre electric buses on routes operated on behalf of companies De Lijn and TEC.
Ferry Cars is the first Belgian public transport operator to opt for electric vehicles for regional services. "Our fruitful collaboration with Daimler Buses started more than 20 years ago; this has given us the confidence to be the first Belgian company to order the eCitaro," explained Pieter Lanssens, CEO of Ferry Cars.
The buses feature the latest NMC3 battery generation with improved cell chemistry and are charged via charging cable at one of a total of eight charging stations at Ferry Cars. "In this way, we are gaining intensive experience about the decisive factors for establishing an economical electric public transport operation in regional public transport as well, and this knowledge will certainly determine the upcoming expansion of our fleet in the future," added Pieter.
Chief Operating Officer Bart De Koster added: "We currently achieve an attractive autonomy of up to 320 kilometres per bus. Nevertheless, we are already engaged in the development of a controlled charging system, which will be indispensable for the network expansion with more electric buses in the future."
The buses are also equipped with the Sideguard Assist and Preventive Brake Assist assistance systems, and a reversing camera.
The operator can trace its roots back to the 1920s. Today, the company has a bus fleet of around 150 vehicles, about half of which bear the Mercedes-Benz logo, including Conecto, Citaro LE and Citaro G models as well as Citaro hybrid articulated buses dating from 2019.