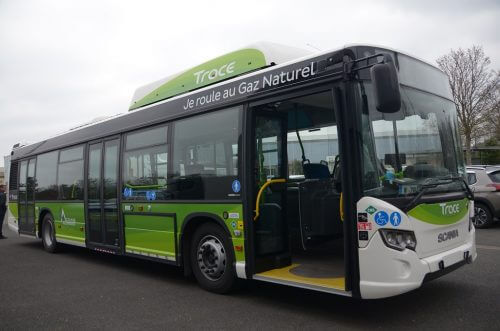 FRANCE Seven Scania Citywide natural gas-fuelled buses have been added to the Trace de Colmar agglomération public transport network, representing an investment of nearly €2m. Six of the buses are 12m rigids, the seventh an 18m artic. An eighth will be added before the end of the year and all will feature wheelchair ramps and sound announcements for the visually impaired.
The Trace network extends across 21 municipalities and is operated by STUCE (Société des transports urbains de Colmar and surroundings). Colmar agglomération has already invested heavily in renewable energies. Only one bus in a vehicle parc of 40 does not run on natural gas. Scania France organised training sessions for some 80 bus drivers in preparation of delivery of the latest order and technical assistance is being provided by Scania Alsace, Sausheim.
Scania says that gas engines offer performance equivalent to that of diesel engines with exceptional torque. They also have the capacity to reduce emissions of nitrogen oxides by up to 50% compared to the Euro 6 standard. Much lower than a diesel engine and the use of biomethane of renewable origin even allows a 100% decarbonated solution.
Driving flexibility and low noise levels are additional arguments in favour of them, particularly in urban areas where the demands in respect of the environment are more stringent. Noise levels are divided by two compared to that emitted by a diesel engine.