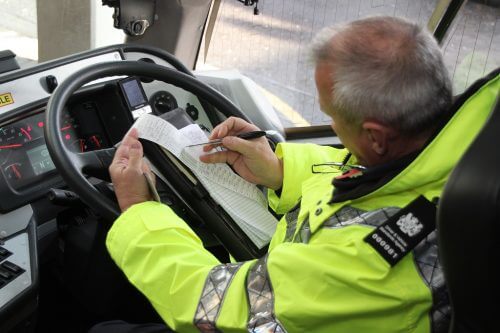 Majestic Travel O-licence receives seven-day suspension after driver is caught removing tachograph card to hide lack of rest
A tour company coach driver has been jailed for putting his passengers' lives at risk by working excessive hours, the Exmouth Journal reported. Bob Rowe, 54, was spot-checked driving to Exmouth and found to have fiddled his tachograph to make it look as if he was staying within the safe limits, when he was in fact driving up to four hours longer than he should.
Mr Rowe was caught during a spot check when taking a party of tourists to Exmouth last August and investigators were able to show he had broken the law by cross-checking his personal records against the digital tachograph in the coach. Mr Rowe removed his tachograph card when he realised he was going to exceed the permitted hours, thus concealing what he was doing.
Bob worked for Wolverhampton-based K&E Horton (Garages) Ltd, which trades as Majestic Travel. Exeter Crown Court heard how most of the offences happened when he was driving the 57-seater on trips from the Midlands to London for excursions to see shows and musicals. He claimed that Majestic Travel did not book parking for the coach while the passengers were at the theatre, so he had to drive around looking for somewhere to stop. This meant he was unable to take the 45-minute break which would have made it legal to drive them home again.
Mr Rowe admitted seven offences of knowingly making false tachograph records and was jailed for six months at Exeter Crown Court. Recorder Martin Meeke, QC, told him: "You were exceeding your hours and falsifying the records by removing the driver's card so it appeared you had driven fewer hours than in fact you had.
"On one occasion you drove eight and a half hours without a break instead of four and a half and when you should have had a minimum break of nine hours, you only had seven and a half. You drove for almost 10 hours without a qualifying break.
"It is bad enough when offences like this are committed by an HGV driver, but you were driving a 57-seat coach, therefore endangering those you were carrying. You knew what you were doing."
The Office of the Traffic Commissioner informed CBW that after Mr Rowe was stopped by the DVSA in August 2016, a wider investigation into the Majestic Travel licence was launched, leading to a public inquiry in May before Traffic Commissioner Nick Denton – a date which preceded Mr Rowe's conviction. The licence received a seven day suspension, which will be carried out from July 29 to 0001hrs on August 5.
The operator's O-licence was spared because it had greatly improved its maintenance record following an unsatisfactory report in 2013, and had taken steps to improve drivers' hours compliance, though more needed to be done. Nick Denton recorded that the good repute of Transport Manager, Alan Clews, had been damaged.
Three undertakings were also recorded on the company's licence. Richard Lavender was told he had to become a director by June 30, 2017, and must attend an O-licence management course by the end of September. The operator was also told to submit appropriate financial evidence for 12 vehicles by September 30.
At the same inquiry, Bob Rowe was disqualified from PSV driving for 12 months.