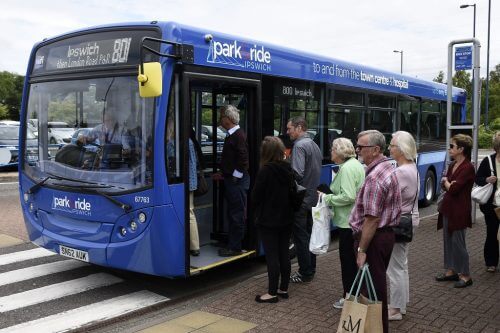 First Eastern Counties has taken on the Ipswich Park-&-Ride service on a commercial basis. The route, which operates between the London Road and Martlesham Heath sites on basically a 15-minute frequency Monday to Saturday, also serves the Public Sector Campus, town centre and Ipswich Hospital. An enhanced10-minute frequency operates in the morning from London Road to accommodate commuters and there are late journeys back to both car parks via an extension of service 66. Two services an hour from Martlesham will serve Suffolk One Sixth Form College during term time.
Seven blue-painted, leather-seated ADL Enviro300s with free WiFi have been transferred from elsewhere within the group to operate the service. Onboard next stop display equipment using GPS has been supplied by McKenna Brothers. There is also a countdown facility that shows passengers how many minutes until departure from each site.
Fares have been pitched to entice commuters and leisure passengers alike. Cheaper fares will be available after 1200hrs on weekdays. All tickets can be purchased on First's mTicketing App.
Branding for the service has been developed in-house. Bus stops along the route are being rebranded and there is a new website at www.ipswichparkandride.co.uk that's linked to the main First Norfolk and Suffolk holding page.