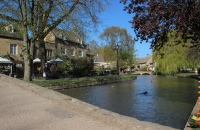 PCVs to be banned from privately-run coach park in Cotswold tourist honeypot from December
Coach operators and drivers are set to boycott Bourton-on-the-Water after it emerged coaches are to be banned from the privately-run coach park in the popular Cotswold village from December 1 – with no alternative currently available.
In a notice handed to drivers, John Hackling of Bourton Vale Parking Limited (BVP) stated: "Over the years coaches with their engines running whilst stationary has resulted in continued complaints to staff from residents at The Larches. This has become an untenable situation.
"Coupled with Cotswold District Council (CDC) advising that, under the Environment Act of 1990, we as operators of the coach and car park are liable to prosecution due to this situation, we find we have no alternative but to close access to all coaches parking at our facility.
"It is regrettable, therefore that from December 1, coaches will no longer be able to access BVP for either dropping off or collecting passengers or for parking purposes.
"We would like to take this opportunity to thank those coach operators who have adhered to the site rules and who have used our facilities when visiting Bourton-on-the-Water. Please refer any queries you have with regards to coach parking to Cotswold District Council and not to BVP."
The news immediately sparked howls of concern from drivers and operators on the Coach Drivers North & South Facebook Group (which CBW's Editor is a member of the admin team). Without proper provision for parking, setting down and picking up, coaches will be left with no choice but to shun Bourton.
That in turn has led to concern among local businesses which depend on the visitors coaches bring to the village. Carol Teece, Treasurer of the Chamber of Commerce told CBW: "We desperately need coaches. I run a small gift shop – Duttons – on the High Street. I reckon about 70% of my trade comes from coach passengers. It's a daunting few months for us. I want to stress that we are open for business and are doing all we can to ensure there is provision for coaches and drivers."
A CDC spokesman told CBW: "We are currently engaged in discussions with the owner of the private coach park and other interested parties – including the Parish Council, the Visitor Centre and local business representatives – to review the provision of coach parking in Bourton-on-the-Water from December 1 onwards. Whilst the Council owns a car park in Rissington Road that might provide a permanent alternative for coach parking, statutory processes and physical works would need to be approved and carried out to make this option feasible, and this would not be possible to achieve by December 1.
"As negotiations between the interested parties continue, we are hoping that the proprietor will make further concessions in the knowledge that many Bourton traders benefit from coach party visits and that the Council is actively pursuing a permanent alternative solution. In the meantime, we have also advised coach companies that they may wish to drop off passengers in Bourton-on-the Water and then signpost their drivers to the Council's Maugersbury Road car park in Stow-on-the-Wold (GL54 1HH) where there are five coach parking bays which are currently provided free of charge."
Asked to confirm whether the council had contacted BVP about the Environmental Act, CDC said: "We have made the proprietor of the private coach park aware of complaints from neighbours regarding exhaust fumes caused by coach engines when they are allowed to idle for a considerable period when stationary, and have alerted him to the related penalties should these practices continue."
CBW has been unable to find any planning applications for the site on CDC's planning webpages. The council confirmed: "We are not aware of any planning issues. We believe the site will continue to be used for car parking."
Since being notified of this change in the past few days, the Parish Council said it has gained agreement from BVP that coaches will be able to still park at the facility for the the Annual Christmas Fayre and lights switch-on event on December 4 – a move also welcomed by CDC.
In a statement issued by Sue Cretney, Clerk, the Parish Council said: "We continue to work with Cotswold District Council to find a permanent solution for coach parking in the village from December 1 through to 2016, and onwards.
"Both the Parish Council and CDC will issue further information as soon as it becomes available, but we trust this bulletin will enable the local community to be assured that this matter is being given very serious attention and consideration."
Kathryn Pulham of Pulham's Coaches, which is based in the village told CBW: "Unfortunately we don't have enough additional space to offer short or long-term coach parking for visiting coaches at our depot. We too are disappointed to hear that the coach park will cease offering a facility for the many coaches visiting Bourton-on-the-Water. Coaches and drivers are very much wanted and needed and contribute to the local economy. We are aware that the Parish Council is working with the CDC to agree on a satisfactory outcome for all parties.
"I would suggest all operators and group travel organisers with itineraries visiting Bourton-on-the-Water make contact with CDC as soon as possible to ensure they manage this situation appropriately. It is essential to Bourton's sustainability that coaches are welcomed and appropriate provision is available for set down, pick up and parking. We will continue to liaise with both councils to seek a satisfactory outcome."