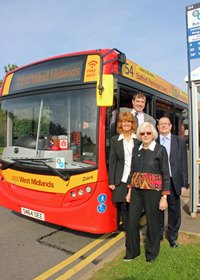 Workers at two major Wolverhampton business parks are now enjoying enhanced bus services from National Express West Midlands (NXWM).
The routes serving the i54 and Pendeford business parks and have now been extended to Stafford and Hednesford. Both services operate Monday to Saturday and terminate at Wolverhampton bus station.
The changes have been introduced through Centro, the region's public transport delivery body and Staffordshire County Council, with funding supplied by the i54 Transport Steering Group. NXWM operates the services.
Cllr Judith Rowley, Centro Lead Member for Fair and & Safe Transport, said: "I am delighted we have been able to improve services to these major employment centres so that they best serve the areas where people need to get to and from."
Peter Coates, Managing Director of National Express West Midlands, said: "The services are proving to be very reliable and we are encouraged by the early passenger numbers, which continue to grow week on week."
Cllr John Reynolds, City of Wolverhampton Council Cabinet Member for City Economy, said: "These enhanced bus services can only help workers commuting to and from the i54 and Pendeford business parks, which has got to be good for business."