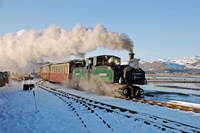 Coaches on tour in North Wales can be assured of a welcome at the Ffestiniog and Welsh Highland Railway (F&WHR) over the winter months.
As the main season draws to a close at the end of October, plans are now finalised for the winter train service running from November 2016 until March 2017.
Due to ongoing track renewal work, there will be no service on the entire length of the Ffestiniog Railway from October 31 2016, until March 25, 2017, apart from the Christmas holiday week from Boxing Day until New Year's Day – when there will be two daily departures from each end of the line.
The Welsh Highland Railway is offering a special 75-minute 'round trip' service from Porthmadog to Hafod Y Llyn on Saturdays, Wednesdays and Thursdays, from November 2 until December 8, and again from March 1 until March 23, 2017. During Christmas and the February half-term break, a service runs from Dinas to Beddgelert, from December 27 until New Year's Day, and again from February 18 to 25, 2017.
Steve Morris, F&WHR Commercial Projects Assistant told CBW: "Our hugely popular Santa trains will run on the Welsh Highland Railway on selected dates in December, with departures leaving Dinas in the north, and Porthmadog in the south. "Passengers will again be able to enjoy a sherry and a mince pie as they travel through the magnificent Snowdonia scenery. Group rates are available on these services. All of the above trains are rostered for steam locomotive power.
"It should be noted that Dinas will become a temporary northern terminus during the construction of the new station at Caernarfon starting over the winter. Dinas can be located just off the A487 using SATNAV post code LL54 5UP with free coach parking available."
For more details, call 01766 516024. Visit www.festrail.co.uk