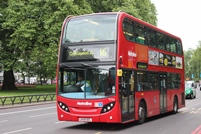 ComfortDelGro has released its results for the second quarter of 2014, ended June 30. All of the following figures are in Singapore dollars.
Revenue increased by 11.9% to $1,016.3m (2013: $908.4m), a company record which crossed the $1bn-mark for a single quarter for the first time. The bulk of the revenue increase came from overseas revenue, though a positive foreign currency translation boosted revenue growth from $97.5m to $107.9m.
The company's operating profit also improving, rising 6.5% to $119.9m (2013: $112.6m). Operating profit from overseas operations accounted from more than half of this figure, up 3.9% from the previous 46.8%.
Net profit increased 9.9% to $75.7m (2013: $68.9m) while EBITDA went up by $11.6m to $207.8m. Earnings per share stood at 3.55 cents, up from 3.26 cents in 2013.
For the half-year ended June 30, 2014, group revenue increased by 10.6% to a record $1.967bn while net profit attributable to shareholders grew by 9.8% to $139.0m.
ComfortDelGro Managing Director and Group Chief Executive Officer, Kua Hong Pak, said: "It has been a challenging yet rewarding quarter and we will continue to work hard and seek opportunities to sustain our growth."
Second quarter revenue from the bus business increased by 18.4% to $517.2m as growth from operations in the UK and Singapore more than offset a decline in Australia and China. Revenue from overseas bus operations continued to account for the bulk of ComfortDelGro's bus revenue – amounting to 62.9%.
In Singapore, revenue from the bus business increased by 10.2% to $191.9m, after an increase in both fare prices and ridership.
Revenue from the bus business in the UK increased by 64.5% to $224.1m, as the actual increase in revenue of $73.5m was aided by a positive currency translation effect. The group said the increase in revenue came mainly from contributions from Metroline West, service enhancements and higher Quality Incentive Contracts (QIC) revenue and from new services added.
Revenue from the bus business in Australia fell by 16.2% to $101.2m after the loss of two contracts as well as a negative currency translation effect.
Revenue from the China bus business was $5.8m lower following the divestment of the bus business in Shenyang.
The overseas bus business accounted for 62.9% of total bus revenue and 90.4% of group bus operating profit.