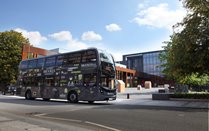 A total of 20 vehicles are to be fitted with hybrid Gyrodrives to improve fuel economy
Oxford Bus Company has revealed a new fleet of buses for the BrookesBus network fitted with hybrid Gyrodrives.
Based on Formula One race technology, the system was developed by Williams at Grove and sold to engineering firm GKN and its hybrid power division earlier this year.
GKN Hybrid Power's Gyrodrive is a Kinetic Energy Recovery System (KERS) which uses a high speed carbon fibre flywheel to store the energy generated by a vehicle when it brakes. The energy usually lost as heat is stored by the flywheel to power an electric motor which boosts the wheels' power when accelerating. This improves fuel economy by up to 25% and reduces emissions, as well as reducing the work done by the internal combustion engine.
Phil Southall, the Operations Director of Oxford Bus Company, explained: "In many ways it's an extremely high tech version of the friction push-along cars many of us had as children."
The new technology will be fitted to 14 new Alexander Dennis (ADL) Enviro 400MMC (Major Model Change) Euro 6-engined buses joining the Brookes fleet and to six existing ADL Enviro 400 vehicles which will be used to handle peak time services. The Gyrodrive technology represents a £3.7m investment, achieving the benefits of electric hybrids at a fraction of the cost.
Phil Southall said: "For nearly 20 years Oxford Bus has been at the forefront of green technology, and although the concept has been trialled in London, these new buses will be the first Gyrodrive hybrids to go into regular service.
"The new buses are a fitting way to mark our continued partnership with Oxford Brookes University and the start of our second five year contract to operate the BrookesBus network.
"Oxford Bus Company worked with Williams initially and later GKN throughout the development of the project. The flywheel technology helps us to reduce our fuel consumption and CO2 emissions, thereby improving air quality for all those living, working and visiting Oxford."