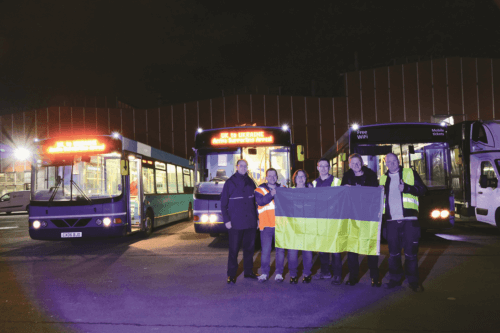 When drivers were sought to take three Arriva Wrightbus Commanders to Poland to assist in the evacuation of Ukrainian orphanages, CBW correspondent Craig George stepped up to help.
It feels like only a matter of months ago that I was sat here, my fingers prodding at the same keyboard as I excitedly stamped out my first piece for CBW: a story of how I piloted a Ukrainian-built LAZ-699 through the streets of Pripyat in the Chernobyl Exclusion Zone. This was perhaps the cornerstone in my new-found adoration of Ukraine, a country I immediately felt a connection to and one to which I vowed to return within 12 months of this inaugural visit.
Quite what it was about Ukraine that had grasped my heart so tightly isn't easy to pinpoint. Perhaps it was the borscht, or the refreshing level of trust in common sense. Maybe the warmth of the people or perhaps even their remarkable ability to make a Lada 2103 last longer than a block of solid granite. While all of those things were enough to pique my interest, I think there is something much stronger yet less tangible. Ukraine has something we lack: an exceptional level of national pride that isn't hijacked by hard-line political groups and a national flag that is omnipresent and not tainted by football hooligans on the world stage. I can easily recall gazing out of the slightly milky LAZ window at flashes of yellow and blue on every bus shelter, bridge and item of street furniture as it streaked past.
This level of national pride is undoubtedly born from years of continuous oppression. Ukraine is still full of youthful enthusiasm fuelled by grasping the tiller of freedom it had fought so hard for and set sail towards a future glowing in bright yellow and blue.
Now, three years on from that visit, the world is a different place. Not only has a global pandemic handcuffed us all to our home nations but of course Russian President Vladimir Putin has decided to shipwreck the noble voyage of Ukraine. All of a sudden it became clear to me why the Ukrainians are so proud of their identity and why, yet again, they weren't going to lay down and let another world leader simply walk over their beautiful nation, trampling more than sunflower fields as he goes.
I find this spirit most infectious. Whilst we all watched in pure shock and horror as Russian tanks drove over defenceless civilians, and Operation Z soldiers dug in to the highly radioactive soil I had driven over just three years before, I felt the pain of the Ukrainians pass through my soul. I immediately grew frustrated that I had no obvious resources or skills to offer aid to Ukrainian people.
A call to arms
As the weeks passed and the 'Homes for Ukraine' scheme was announced, I began to believe that the bus industry could well be in a position to come good: was a Dunkirk-esque flotilla of British buses perhaps the answer to assist with transporting Ukrainian families to their temporary British hosts? Alas, no. Thankfully the spirit of unity is alive and well throughout European transport organisations, with free or heavily discounted air and land travel available to Ukrainians throughout the continent, including in the UK. Hence, the search for my 'place' in the aid efforts for Ukraine went on.
[…]
By subscribing you will benefit from:
Operator & Supplier Profiles
Face-to-Face Interviews
Lastest News
Test Drives and Reviews
Legal Updates
Route Focus
Industry Insider Opinions
Passenger Perspective
Vehicle Launches
and much more!