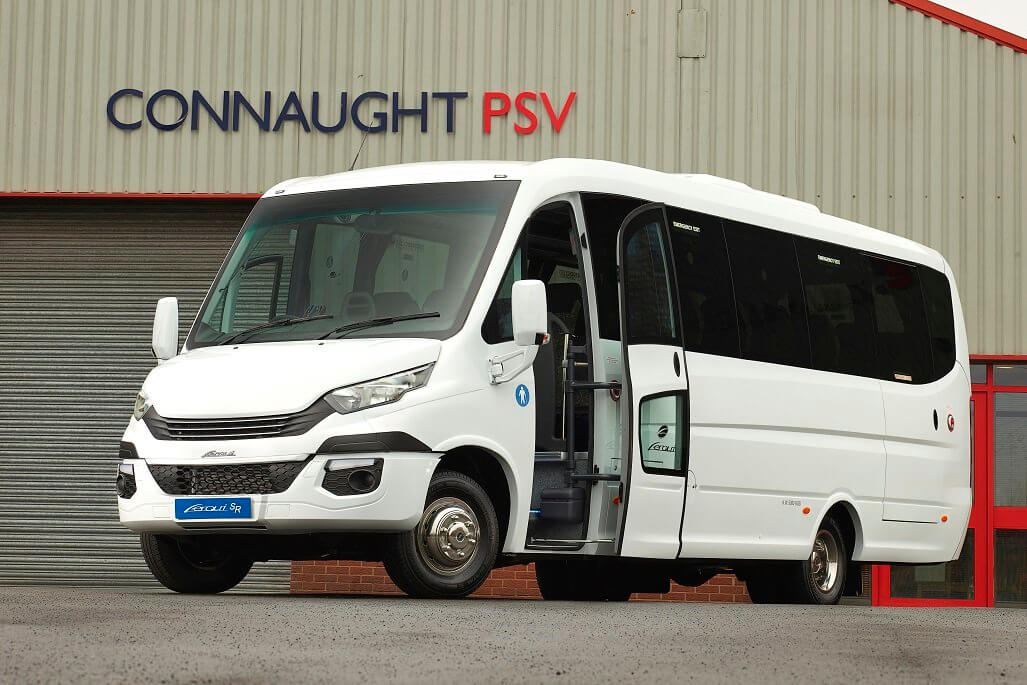 Decision made following 25 chassis sales in the space of a year
Connaught PSV, sole importer for Spanish coachbuilder Ferqui, has commissioned its own Iveco Daily Hi-Matic demonstrator after securing customer orders for more than 25 chassis in the 12 months since introducing the Daily and Ferqui combination into the UK market.
Ferqui is an accredited Iveco Busmaster bodybuilding partner and has been mounting its bodies to the Iveco Daily chassis for more than a decade.
Managing Director of Connaught PSV, Steve Peach, said the 7.2 tonne Iveco Daily Hi-Matic provides the perfect platform for Ferqui's 29- and 33-seat midicoaches, and is investing in a demonstrator to ensure more fleets can experience the new vehicle.
Steve explained: "This area of the market has been turned on its head since a competitor chassis ceased production. The Daily is winning a lot of interest, particularly thanks to the class-exclusive eight-speed Hi-Matic transmission, which is seriously impressive.
"It makes the Daily a pretty unique vehicle at 7.2 tonnes, with its light commercial vehicle platform offering impressive manoeuvrability, driving performance and ride comfort. The only alternative is a competitor's 9-12 tonne truck chassis which are more expensive, heavier and less manoeuvrable in urban centres."
Connaught PSV offers the Ferqui-bodied Daily with either 29 or 33 seats, depending on required luggage space. Both models feature high-back reclining seats (with a fixed back row), air-conditioning, a powered front passenger door, full length luggage racks incorporating individual reading lights, full draw curtains, convection heating to both sides of the cabin and an on-board PA system.
The Doncaster-based firm can also order a 25-seat 'luxury specification' Daily for VIP contracts, plus wheelchair-accessible models with access from either the rear or side of the vehicle are available to order upon request.
Steve added: "The 7.2-tonne Daily fits the bill perfectly as a base for our new range of midicoaches. Any teething issues between the bodybuilder and chassis manufacturer have long been engineered out of the product in Europe, and the feedback we're getting from customers here in the UK has been fantastic."
Connaught PSV had twice previously ordered a demonstrator for its fleet – only to sell the vehicle before it arrived in the UK due to strong customer demand. For 2018, it's committed to retaining the demonstrator, and making it available for fleets nationwide.
Iveco BUS delivers the Daily 70C18HP chassis directly from its factory to Ferqui's facility in Spain. Power is provided by Iveco's 3.0 litre Euro 6 diesel engine delivering up to 170 hp; plus each Daily Hi-Matic is built on a 4,750mm wheelbase and features disc brakes, 100 litre fuel tank and rear air-suspension, with auto self-levelling and a raise/lower facility when stationary.