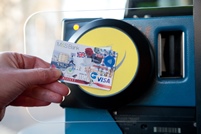 Proportion of journeys made with contactless now up to 27%, with mobile devices also on the increase
Millions of customers across London are using contactless payment technology to get around the capital, according new figures from Transport for London (TfL).
The technology was developed in-house by TfL and removes the need for customers to top-up. Fares are capped, with the best value contactless fares calculated automatically.
Contactless payments have been accepted on London Buses since December 2012, with the technology expanded to cover Tube, tram, DLR, London Overground, and most National Rail services in London in September 2014.
Contactless payments provide 'Monday to Sunday' capping which automatically limits the cost of travel over this period to the price of a weekly travelcard.
The new figures show that across London:
More than 300 million journeys have been made using this technology since its launch in 2012, with more than a million journeys now made each day using contactless;
Nearly 25,000 new cards are used on the network every day, with 27% of all pay as you go journeys on Tube and rail services now made using contactless;
Customers are now also using other methods of payment, such as mobile device ticketing technology. Around 3.5% of all contactless journeys are now made using mobile technology, with around an extra 7,000 devices now seen on average every week; and
Since July 2015, more than 3.2 million journeys have been made using mobile devices on London's transport network. This is predicted to further increase throughout 2016 as more devices come onto the market and more people adopt them and other contactless technologies such as watches and wristbands with Near Field Communication (NFC) capabilities.
The Mayor of London, Boris Johnson, said: "It's wonderful Londoners and visitors from around the world are embracing the use of contactless technology right across our network.
"Passengers clearly love using their bank cards and mobile phones to travel, and why not – it's quick, easy and gets you the best fare. It's another fine example of how we are innovating and investing to make getting around the Capital as easy as possible."
Shashi Verma, Director of Customer Experience at TfL, said: 'More than 300 million journeys have been made using contactless cards from over 80 countries and 27% of pay as you go customers on the Tube and rail now use contactless payment.
"We are committed to making paying for transport easier for everyone and are working to further expand the benefits to journeys to all London airports as well as other key locations around the commuter belt."