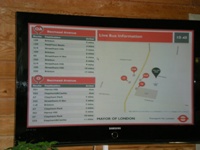 Introduction comes after successful trials in four locations in the capital
TfL has launched its Countdown Digital Sign service – providing a new way to deliver tailored live bus arrival information to a range of public locations, such as hospital waiting rooms, schools or shopping centre foyers.
The introduction of the service follows a trial in four locations: Oaks Park High School in Newbury Park, Loxford School of Science and Technology in Ilford, Redbridge College in Romford and Gracefields Gardens Health and Social Care Centre in Streatham. TfL says the trial demonstrated the signs worked well, delivering clear, easily accessible information about local bus services, utilising existing IT and display equipment in public locations.
The technology can be self-installed using existing equipment; the business or organisation is provided with a tailored web link via a dedicated URL which will give information for the bus stop or stops in the immediate vicinity. An electronic map detailing the local area is also displayed, which is especially useful for passengers unfamiliar with the location.
TfL charges £240 per annum for the service to cover operational costs. This charge can be waived for public sector applications and other specific circumstances.
Simon Reed, Head of Technical Services Group at London Buses, said: "We hope the new Digital Sign service will help passengers make the most of London's extensive bus service. The service makes use of existing infrastructure which is already in place in many public spaces and can be delivered cheaply and quickly. It will help our passengers' access real time bus information away from their local stop which is especially helpful for those who may not have access to the Internet or a smart phone."
Businesses or organisations interested in learning more about the service should email [email protected]