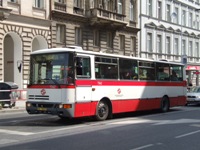 Czech Republic Reports from the Czech capital of Prague idicate anticorruption offiers have raided the Prague Public Transport Company (DPP). Its Chief, Tomas Martinec, later talked to reporters but did not say whether the raid had been related to criminal complaints against suspicious DPP contracts signed by the former management.
Last Wednesday complaints were filed at DPP and on Thursday the DPP board dismissed Director General Vladimir Lich.
Prague Mayor Bohuslav Svoboda (Civic Democrats, ODS) said this was an attack on himself which threatened the anti-corruption principles of the city management. Former ODS Deputy Chairman David Vodrazka, who initiated Lich´s dismissal, rejected it.
DPP is run by city authorities and a number of politicians sit on its supervisory board.
Over 30 police from the anticorruption unit are said to be continuing to search the DPP´s departments of law, marketing, IT, accounting, public procurement and those of its current head Magdalena Ceskova.
Czech media has referred to several controversial contracts which the DPP signed under its former head Martin Dvorak who resigned last December. A recent check ordered by Lich revealed the contracts were overpriced and disadvantageous for the firm. Those responsible for signing the contracts are suspected of breach of trust, fraud and manipulating public orders. The media also suspects Lich's dismissal stems from his having uncovered details of DPP's Chairman Jiri Nouza having a business partnership with an entrepreneur involved in one or more of the controversial DPP contracts.