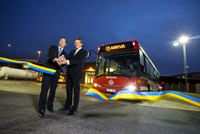 This latest venture expands on the company's established travel operations in Sweden
Arriva has embarked on the first stage of operations under a 12-year contract, the E20, for Stockholm's transport systems which was awarded the regional transport authority Storstockholms Lokaltrafik (SL).
The E20 contract doubles Arriva's operations in Sweden, seeing it provide an additional 94 million passenger journeys a year through combining bus and rail services into integrated multimodal public transport networks.
At a launch in Stockholm on Monday, SL and Arriva employees handed out 15,000 red roses to bus and rail passengers to encourage the contribution of ideas on how to improve local transport services. The passenger who provides the best idea will be rewarded with free passenger transport in Stockholm for seven years.
In addition to its existing bus and rail operations, Arriva now runs the Nockebybanan tram line in the western suburbs of Stockholm; the Lidingöbanan light rail system which operates to Lidingö island, and over 250 buses in Bromma, Sollentuna, Solna and Sundbyberg.
The first phase of the contract includes 1,100 employees, 255 buses and 82 trams/light trains and will deliver 61 million passenger journeys a year. The second phase of the contract begins in January 2013 and raises the resources employed on the contract to 2,020 employees, 484 buses and 183 trams/light trains, delivering an additional 33 million passenger journeys a year.
David Evans, MD of Arriva's Mainland Europe division, said: "Stockholm's transport system will lead the way in integrated travel and we are excited to be playing a pivotal role. By providing joined-up services which are easy to use and take people where they need to go, we aim to increase train and bus patronage in Stockholm. We will focus on improving each element of our customers' journeys."
Arriva has committed to invest in new, high quality buses, coupled with a major refurbishment programme for existing vehicles to improve passenger comfort. Drivers were consulted and contributed ideas and suggestions on their favoured layout and design of the cabs. All the buses in the contract will use renewable fuel sources.