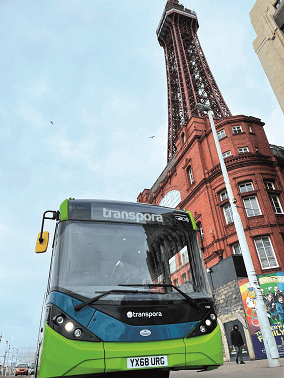 Lancashire County Council has stepped in to keep a bus link for travellers in Staining following a decision to withdraw the service by Blackpool Transport. Blackpool Transport withdrew its service as the number of people travelling on the service had not returned to pre-pandemic levels and said it was no longer commercially viable. The county council arranged a temporary replacement service 72 to maintain a public transport link between Staining, Victoria Hospital and Blackpool town centre.
County Councillor Charlie Edwards, cabinet member for highways and transport, agreed for the temporary replacement whilst the council evaluates how best to maintain access to a bus service to Blackpool for residents of the village, which is located on the outskirts of Blackpool. He said: "It is important to maintain this vital transport link for the residents of Staining with the withdrawal of service 20 to the village. We have an ambitious Bus Service Improvement Plan to improve the number of passengers on buses across Lancashire. Our priority is to provide services for people to get to where they need to go to, when they need to get there.
"In January, Lancashire residents will be able to benefit from the nationwide £2 single-ticket price which we hope will encourage more people to use the bus. For the number 72, the county council is able to utilise emergency short term central government funding to replace the service. But in order to keep the service going, we need our residents to work with us and use the service to demonstrate that it can be run sustainably. As we go into the new year, we will be assessing options on how best we can maintain this transport link between Staining and Blackpool in the long-term."
The new service will operate every hour during Monday to Saturday daytimes and will be operated by Transpora (previously known as Coastliner) on behalf of the county council.