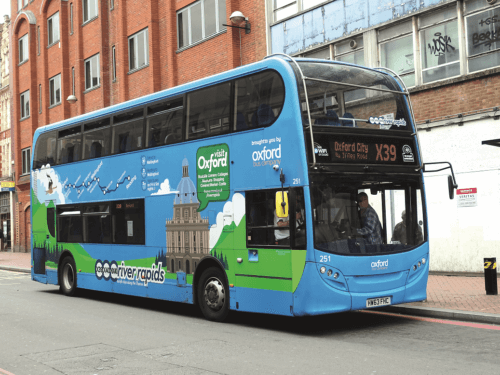 Following a detailed network review, Oxford Bus Group, which includes Oxford Bus Company and Thames Travel, has announced a number of service changes from 8 January. Due to significant delays to many services currently being experienced in East Oxford timetable changes will be made to a number of routes to improve punctuality and reliability.
As a result of the spike in traffic congestion and resulting significant increases in bus journey times that have been observed in the area in recent months, additional vehicle resources will be invested into some services to further improve reliability and to provide improved service resilience.
However, the firm said that as a result of these resource increases, along with the ongoing challenges of driver recruitment and retention, and the background of rising costs and reduced patronage for bus operators since the pandemic, some services will cease to operate. The operator's City9 service will be withdrawn in full, and the City13 will be amended to operate between Abingdon, Radley, Kennington and Oxford city centre as replacement service City35, with the section between Oxford city and Northway withdrawn. Oxfordshire County Council said it has commenced a tender process for the affected sections of these routes, with the aim of securing a replacement service for affected communities.
The company has also advised that it is highly likely that several further changes to services will take place from the same date, due to the impact of a project to rebuild a railways bridge. Luke Marion, Oxford Bus Company's Interim Managing Director, said: "As a bus operator, reducing services is very much a last resort, however with the challenges the network is currently facing in East Oxford we have no choice but to make these timetable changes. We understand the changes will cause concern for some residents and we'd like to reassure them there are some alternative travel options already in place. We have worked closely with Oxfordshire County Council to seek positive solutions and are pleased that the council is running a tender to procure a replacement service.
"The status quo is not sustainable and we cannot continue to be in a situation where we are forced to run services with significant delays, or to cancel or curtail journeys on a daily basis due to congestion, as this is causing inconvenience for our customers and is also impacting on the work-life balance of our colleagues. Therefore, we have had to review our services and establish a way to better balance our resources to provide the best possible service overall.
"The service changes will help us further stabilise our network in what continues to be a challenging time for our industry."