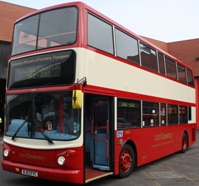 National Express Coventry is kicking off the centenary celebrations of the formation of Coventry Transport with the unveiling of one of its Coventry buses in the last Coventry Transport livery.
The bus, which has been specially researched, painted and refurbished by the bus operator will look just as buses did in the 1970s before being replaced by the blue and cream buses from West Midlands PTE, Centro.
The Transbus ALX400-bodied Dennis Trident 2 was unveiled by Coventry's longest serving bus driver Abdul Khan who has worked on the city's buses for 42 years and National Express Coventry director Mark Kipling.
The bus has been refurbished to look similar to Coventry's homebuilt Daimlers delivered to Coventry Transport in the early 1970s. It gives an impression of what today's buses would look like if Coventry Transport had continued.
Mark Kipling, director National Express Coventry, said: "Coventry is a city which is famous for its history and culture from the Cathedral to Lady Godiva. We also have a rich history in the transport industry and we are delighted to be doing our bit to celebrate 100 years of bus travel in Coventry.
"The livery on this bus is very different to anything on the roads in Coventry at the minute and will definitely catch local resident's eyes."