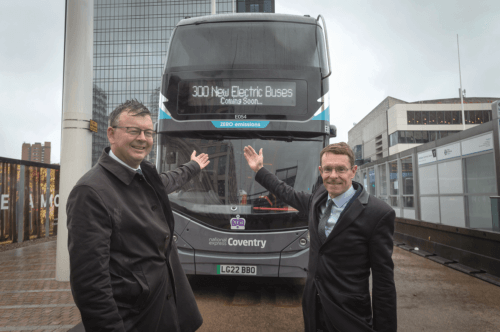 National Express Coventry has introduced 50 electric double-decker buses as part of the region's plan to introduce up to 300 new zero-emission buses over the next three years
A £150 million project to create the UK's first all-electric bus city by 2025 has taken a step forward with the arrival of 50 new green buses on the streets of Coventry.
Transport for West Midlands (TfWM) has been working with Coventry City Council on the scheme and has secured £50 million of Department for Transport funding to develop charging infrastructure and to top up the investment being made by bus operators in upgrading their fleets with electric vehicles. This will include upgrades such as charge points at bus depots across Coventry and Warwickshire.
The new double-decker buses are the first of up to 300 new vehicles due to arrive over the next three years under the 'Coventry's Electric' programme. Over £60m has been invested, meaning over a third of Coventry's fleet is now electric, with another 80 committed to by early 2023. While the city sees improved air quality and reduced greenhouse gases, passengers will benefit from a fleet of new, comfortable and fully accessible buses.
Andy Street, Mayor of the West Midlands, said: "Local people are now starting to see these wonderful buses on the streets of Coventry – offering them a quieter, smoother and more comfortable journey. As we seek to tackle the climate emergency and maintain our net zero commitment, these British made buses are saving energy, cutting fuel costs for operators and improving our air quality. I cannot wait to see even more electric buses arriving in the next few years as Coventry becomes a truly all-electric bus city."
National Express CEO Tom Stables added: "Our vision is to become the UK's most sustainable bus and coach company and it's been great to see this month's COP27 putting a real focus on how businesses can play their part in addressing climate change. More people using public transport has significant benefits for society including safer roads, increased access to opportunities, reduced congestion, improved air quality and more space in our cities.
"We're proud and excited to be leading the way in making Coventry all-electric and are actively recruiting new drivers to join us in the green revolution. Full training is provided and we have recently launched new pay rates of up to £29,500, or more with overtime."
The city already had 10 electric buses operated by National Express in service.
Councillor Jim O'Boyle, Coventry City Council's cabinet member for jobs, regeneration and climate change, said: "We put the bid together and convinced the Government that Coventry is the right place to become an all-electric bus city. Hitting a milestone of 50 new all-electric vehicles is fantastic and the city is really gearing up to creating the right infrastructure for the increase in zero-emission vehicles.
"A quarter of the council's fleet are now all electric, and we have 607 charging points in the city – more than any other city outside of London. This is all part of our joint efforts to help lead on the green industrial revolution and cut our carbon footprint. There are a number of partners involved and it highlights the excellent joint working relations between the different organisations involved. We are very proud to say that Coventry will be the country's first all-electric bus city."
The electric bus fleet is part of TfWM's plans with new rail, bus, tram and cycle routes being developed and new technology introduced to support the West Midlands in achieving its '#WM2041' climate target and become a net-zero carbon region within the next two decades. TfWM, which is part of the West Midlands Combined Authority (WMCA), has committed to a fully zero-emission region by 2030 in its Bus Service Improvement Plan.
Roads Minister Richard Holden said: "I'm thrilled to see Coventry take another step to becoming the UK's first all-electric bus city thanks to our £50 million investment to replace the entire city's bus fleet with new electric buses and install new charging infrastructure.
"The introduction of additional new electric buses by National Express is another crucial milestone towards realising a zero-emission bus fleet and level up green transport up and down the country."
The new buses, built in Falkirk by Alexander Dennis, are part of a total order by National Express Coventry of 130 BYD ADL E400EVs. Electric vehicle fleet and battery storage specialist Zenobē is providing 'Electric Transport-as-a-Service' (ETaaS) to National Express Coventry with its end-to-end solution. This includes replacement batteries, the charging and grid infrastructure system at the depot, with dedicated rapid chargers, and a software platform which helps monitor and optimise energy use, as well as parts and operational support.
The buses will be powered by renewable 'green' energy thanks to solar panels, and a second-life battery installed at the depot by Zenobē. They will take around four hours to charge and can run for up to 280km depending on operating conditions.
Steven Meersman, co-founder and Director of Zenobe, said: "We're delighted to announce that 50 of the 130 new e-buses and charging infrastructure have been delivered and integrated on-time and at pace, and are now out on the roads of Coventry. It's a pleasure to work with innovative partners at Transport for West Midlands and National Express UK to deliver the first Electric Transport as a Service contract in the electric bus sector, offering a ready to go electric bus fleet backed up by operational guarantees, so they can focus on their fantastic customer service and day to day operations."