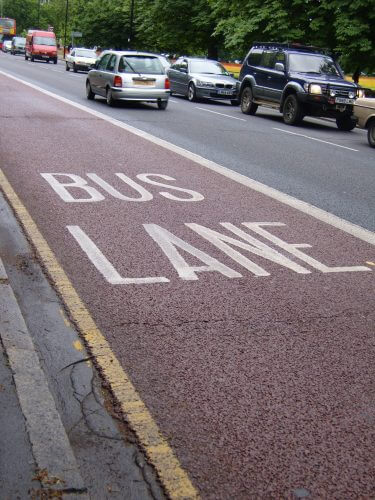 Eight bus lanes are set to be temporarily suspended to assess the impact on bus journey times against congestion levels
Coventry City Council is to suspend a number of bus lanes in the city as part of a six month trial.
The proposal follows a pledge made by the leader of the council, Cllr George Duggins earlier this year. If the trial is approved by the council cabinet, it will begin in January next year.
Coventry has seen an increase of 20% in traffic in the past 15 years according to a report by the Department for Transport (DfT). The same report also suggested that Coventry has the fastest rising levels of congestion due to population and economic growth.
Cllr George Duggins said, "I'm delighted that we are getting this trial underway and that we have been able to agree it with bus operators.
"As a bus user I know how important public transport is, but I also know how frustrating it can be to be stuck in a queue with an empty lane next to you.
"We want to keep traffic moving around the city for everyone. So, we're going to suspend a number of bus lanes and monitor whether traffic flow improves.
"We'll also be checking bus times to see whether the changes have an impact on journey times.
"The changes will mean that we can work with bus operators to develop and implement more effective means of improving bus journey time reliability and hopefully encourage more people to use buses to ease congestion."
Peter Coates, Managing Director of National Express West Midlands, said: "One full bus takes 50 cars off the road. Buses are the solution to the air quality problems that blight the West Midlands and damage vulnerable people's health.
"We will be participating in Coventry's six-month bus lane review. We will share our data with the city council to fully evaluate the impact on our customers and the city as a whole."
There are currently 22 bus lanes in Coventry, totalling 8km in length. In addition, there are bus priority measures at nine signalled junctions. All bus lanes in Coventry operate 24 hours a day.
The bus lanes that will be suspended are: Ansty Road outbound at Clifford Bridge Road; Ansty Rd inbound at Burns Rd; Binley Road; Foleshill Road/Old Church Road (inbound 95m and outbound 125m; Holbrook Lane outbound; London Road outbound St James Lane; and Tile Hill Gyratory.