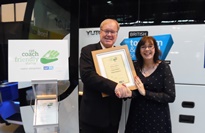 Woburn Abbey & Gardens, West Midlands Safari & Leisure Park and Shrewsbury-based Sabrina Boats are first to achieve new industry standard
CPT has launched the Coach Friendly Visitor Attraction status – a new industry standard designed to recognise and reward tourist attractions which go the extra mile to provide a warm welcome to groups arriving by coach.
The first attractions to receive the status, an extension of the longstanding and successful Coach Friendly Towns, Cities & Villages scheme, are Woburn Abbey & Gardens, West Midlands Safari & Leisure Park and Sabrina Boats (Shrewsbury).
CPT's Operations & Tourism Executive Alf Scrimgour said: "CPT is delighted to add visitor attractions to its extremely popular and highly respected Coach Friendly status.
"This new status provides the ideal platform for the coach industry to showcase visitor attractions across the UK that do their utmost to welcome and provide a comfortable and enjoyable trip for coach groups and parties. It has also been designed to help raise levels of awareness and standards across the coach tourism industry for the benefit of coach operators, passengers and the attractions themselves.
"Attractions put forward or self-nominating for the status are assessed on a strict judging criteria by CPT officers. The status remains valid for three years after which the attraction coach friendly offering will be reviewed."
CPT assessed Coach Friendly Visitor Attractions guarantee to provide:
Exceptional coach, driver and passenger facilities;
Dedicated information (for coach tours) on an easy to use website;
Clear directional instructions and signs for visiting coaches and their parties;
Evidence the attraction welcomes coach groups and liaises with local bodies on issues relating to coaches (ie planning, traffic);
Dedicated and adequate coach parking;
Facilities for group comfort (toilets, refreshments, waiting areas etc); and
Facilities for disabled visitors.
Nominations are welcomed and encouraged from members of the coach tourism industry, including drivers, couriers, tour guides and coach tour operators. Attractions may also put themselves forward for the status.
Receiving the status on behalf of West Midlands Safari Park, Sue Day, Guest Relations Officer said: "We are thrilled to be one of the first recipients of this status. It is a great accolade to be identified as an attraction whose services provided to the coach industry not only meets their approval but is recognised by them in such a tangible manner.
"We consider the coach operators who visit us to be a vital part of our business and have always tried to work alongside them to make any necessary improvements to our attraction and the experience that we offer to their passengers."
Sue added: "We are committed to continue to meet the benchmark required and will endeavour to ensure that we consider the needs of the coach operators in any future plans."
Lisa Weaver of Woburn Abbey & Gardens said: "It is an honour and a privilege to receive the Coach Friendly Attraction Status and this recognition from within the industry.
"At Woburn we pride ourselves on our dedication to be coach and groups friendly. The status offers us the opportunity to demonstrate how we go out of our way to truly welcome coaches, coach drivers, groups and group leaders to the Woburn Estate, allowing groups and tour operators to book with confidence."