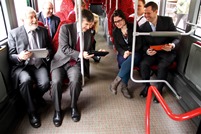 The Isle of Man's Bus Vannin is rolling out free WiFi on all its services, which is expected to be implemented on the majority of its buses by this summer.
Already 42 vehicles of the operator's 65-strong fleet have been fitted with routers to provide unlimited broadband browsing by passengers. In February, Bus Vannin saw 994 passengers enjoy 2,622 sessions, spending an average of 26 minutes online.
Infrastructure Minister Phil Gawne MHK said: "Fitting free WiFi has been an ambition of ours for some time and we know it will be a welcome enhancement of our bus services.
"We have clean, efficient and regular bus services and with the addition of free WiFi, Isle of Man public transport is now demonstrably a great alternative for business commuters across the Island and for those travelling to and from the airport."
The bus garage at Banks Circus is fitting the routers in conjunction with Sure Isle of Man in the project managed by the Cabinet Office's Government Technology Service. Built by Icomera, the routers use a 4G signal, provided by Sure, to distribute broadband.
Mike Phillips, CEO of Sure Isle of Man, said: "We're really pleased to be working with the Isle of Man Government on this initiative to help it achieve its digital principles and benefit the community.
"Opportunities for businesses and the government to work together on exciting strategic projects like this should be embraced as they facilitate the exchange of skills and knowledge for the benefit of all islanders.
"We hope that bus users enjoy the free WiFi facilities and make the most of this fantastic addition to the bus fleet."