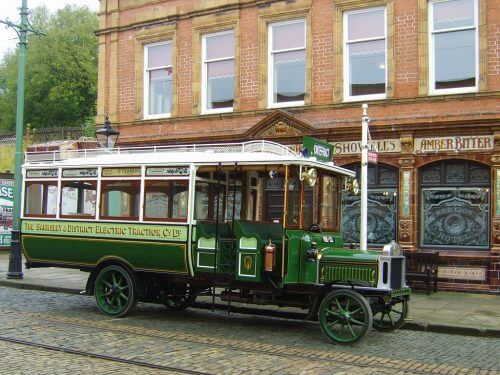 Vehicle which is believed to be the oldest British full-size single-decker bus in existance is offered to the museum for half its value, £65,000, in order to provide it with the 'best possible home' after its restoration
A unique Edwardian bus, originally in service in Barnsley, has been offered for sale to the National Tramway Museum at Crich Tramway Village, Derbyshire. The bus was one of five built for Barnsley & District Electric Traction Company Ltd in 1913 to test motorbuses as a tram replacement service.
Trams operated on only two of the six main roads out of Barnsley town centre in 1913. The tramway ran from the 'Smithies' terminus near Monk Bretton Colliery, up the hill to Eldon Street, then through town and up to Sheffield Road to two terminuses at Worsbrough Bridge and Worsbrough Dale.
The new buses ran services from the town centre to Hoyland Common, Royston, Hemsworth, West Melton and Goldthorpe from 1913. Barnsley and District purchased a further 15 buses, following the initial five, which they hired out to other members of the British Electric Traction Group. With additional buses from 1914 they were able to offer services to Dodworth, Mapplewell, Darton, Cawthorne, Grimesthorpe and Thurnscoe. Barnsley & District changed its name to Yorkshire Traction Co. in the 1920s.
The successful operation of the buses led to the ultimate replacement of all trams throughout BET's network.
Car No. 5 of the fleet is thought to be the oldest British full-size single-decker bus remaining in existence, and possibly the oldest in the world. It is the only one of those 20 which survives and the only 'combination car' motorbus in existence.
The bus was found built into the inside of a house and has been restored and authentically rebuilt to its original condition by expert Leyland vehicle restorer Mike Sutcliffe MBE. Mike and his wife Pat are giving the National Tramway Museum the chance to add it to its collection of vintage tramcars, and the museum needs to raise £65,000 in order to buy the bus which has been valued by Bonhams at more than double the asking price, with the balance being a gift to the Museum by Mike and Pat Sutcliffe.
Mike Sutcliffe MBE said: "Having rescued the remains of this bus from inside a house which was being demolished and realising its historical importance as being of National significance, I have restored this unique 'combination car' bus as authentically as possible to its original condition, irrespective of effort or cost.
"Now this has been achieved, Pat and I want it to go to the best possible home where it can be seen and enjoyed by all who are interested in engineering skills and public transport. This is why we are prepared to gift a large part of its value to Crich Tramway Village, where its safe and long-term future can be assured."
The National Tramway Museum has asked the public for help to purchase the bus, and said donations can be made at www.tramway.co.uk/contact/make-a-donation. Donations can also be made via a cheque payable to The Tramway Museum Society and sent to Car No. 5 Appeal, Fundraising Officer, Crich Tramway Village, Matlock, Derbyshire, DE4 5DP. The names of contributors will be displayed unless they prefer to remain anonymous.