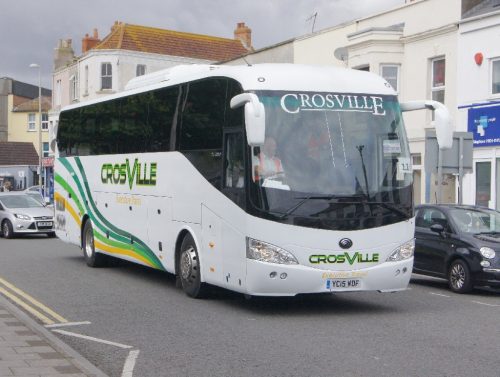 Further seven coaches to be supplied, taking the total number of Yutong coaches in its fleet to 15
Weston-super-Mare based Crosville/Southern National is taking delivery of another seven Yutong coaches that are being supplied through Mistral. Five will be 53-seat TC12s. The remaining two are 35-seat TC9 midis.
"We have placed an order for seven coaches that will be delivered later this month," Crosville/Southern National Chairman/Owner Jonathan Jones-Pratt told CBW: "This is our first initial order after the eight Yutongs we already have on the road. We are personally very pleased with Yutong.
"There will be a very progressive purchasing regime throughout 2017 focused on coaches that will provide luxury travel for our passengers. The vision is that we will place orders for over 50 extra brand new vehicles during the year that will support local growth and investment as well as providing high quality transport for EDF Energy in connection with the Hinkley Point C power station project.
"Somerset Passenger Solutions (the 50/50 joint venture between Crosville and FirstGroup that has a 10-year contract to provide services during the construction of the power station) is now live and we are excited along with our partner FirstGroup at the expected growth of the project. This year will see demand for in excess of 110 vehicles collectively and the progressive recruitment of over 180 drivers."