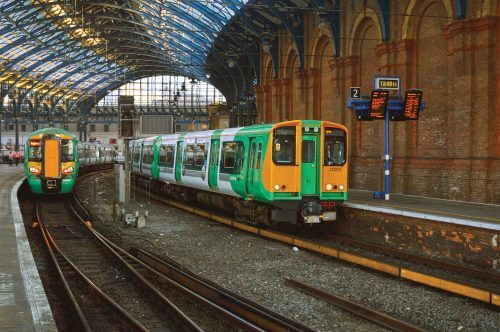 Around 200 vehicles supplied from variety of operators as three days of strikes continue to affect commuters
Dozens of private coach and bus operators are sending hundreds of coaches to the south this week to provide replacement buses for Southern rail services affected by ongoing strike action, The Telegraph reported.
Operators from as far away as Northumberland offered to send buses and drivers to help, though CBW understands that this particular operator was not used and the majority involved are from across the south-east of England. The development means that thousands of commuters who would otherwise be stranded will be able to get to work. ASLEF, the union perpetuating the latest strike action, announced that a planned six-day strike this week would be cut to three days, but announced further strikes on January 24, 25 and 27.
Southern warned that next week's strike would still cause huge disruption and urged passengers who are able to work from home to avoid travelling. The coach and bus operators are supplying around 200 coaches to get key workers, such as nurses, to where they need to be.
The operators in question were recommended by the Confederation of Passenger Transport (CPT), who provided Govia Thameslink (GTR) with a list of who had said they may be able to assist. A spokesman for CPT said: "We were asked by the Department of Transport to find out what sort of availability there might be from our members should GTR need to bring in coaches.
"We have had a good response from as far away as the north east and the south west, particularly for next week, as January is usually a quiet time for coach tours. We have collated those responses and given them to GTR, and it is for them to decide what they need."
Most of the coaches will be used to take passengers to stations where they can board trains run by companies whose staff are not on strike, such as Southeastern and South West. As rail replacement services, the buses will be paid for by Southern and any passenger with a valid train ticket will be entitled to use them.
Southern's Passenger Service Director, Angie Doll, said: "We are massively grateful to all the operators who are helping us in our efforts to keep passengers moving."
Meanwhile National Express is running 'bespoke commuter coaches' between Brighton and London non-stop. Passengers can pay £60 for a five-day pass – £44 less than a weekly rail ticket. Although, ASLEF reduced its planned six-day strike to three days, industry sources said the effect of the strike, on Tuesday, Wednesday and Friday, would be almost the same, as it takes 24 hours after a strike for the network to get back to normal because of trains being in the wrong places.
A Southern spokesman said: "This is a cynical ploy to minimise the impact on ASLEF drivers' pay packets and maximises misery, disruption and hardship for passengers.
"ASLEF move shows pure contempt for the travelling public and it still causes massive disruption over next week. These strikes are pointless and they should call the whole thing off and let common sense prevail."