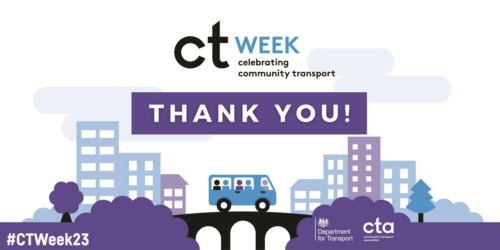 Community transport has been the focus of CTA Week, whilst operators across the country await the reults of the CTA Awards
The Community Transport Association hosted a week-long celebration of the impact of community transport between 16 and 21 October as part of its Community Transport Week, recognising the vital role and inspiring work of the sector in helping people to stay independent, participate in their communities and access essential public services and employment.
This year's Community Transport Week theme was 'Bridging the Gap; Connecting Communities' and was designed to highlight how accessible, inclusive and affordable transport is fostering stronger and more connected communities. "In this interconnected world, where mobility plays a pivotal role in shaping lives, efforts of the community transport sector transcend mere logistical solutions. Community Transport embodies compassion, empathy, and a deep-rooted understanding of the diverse needs of people in rural communities," the Association says. "Community transport is more than just moving people from point A to point B. It is about fostering a sense of belonging, bridging divides, and empowering individuals to access education, employment, healthcare, and social opportunities that are the bedrock of a thriving community. The CT Week is a time to spotlight the incredible efforts of volunteers, drivers, coordinators and everyone in the sector who works tirelessly to provide reliable transportation options for those who face mobility challenges or lack access to conventional modes of transportation."
During the event, individuals, organisations, and local authorities were encouraged to come together to raise awareness about the importance of community transport services and recognise the dedicated individuals who make them possible and to showcase the positive impact that CT services have on people's lives, enabling them to maintain their independence, engage in social activities, access healthcare facilities, and connect with their local community.
Awards & Conference
The CTA has also announced the shortlist for this year's Community Transport Awards. The Association said its panel of judges had an 'incredibly difficult task' of evaluating all the submissions and narrowing down the nominees to the very best of the best. The winners will be announced alongside the CTA Conference, which will be held at the NEC in Birmingham on 23 November.
Shortlisted for the awards are:
Provider of the Year
(small fleet of 1-5 vehicles)
1. The Sprint Community Transport
2. Hopeman Community Bus
3. South Denbighshire Community Partnership
n Provider of the Year
(above 5 vehicles)
1. Community Transport Sussex
2. Badenoch & Strathspey Community ConnXions
3. Bassetlaw Action Centre
Innovation in Volunteering
This award celebrates operators who take an innovative approach to recruiting, supporting, and retaining their volunteers, such as new approaches to advertising, a volunteer support programme, partnership working with other organisations, or volunteer reward systems.
1. SWAN Transport
2. Mid Devon Mobility
Partnership of the Year
An award for two or more organisations that have worked in partnership for the benefit of their communities, focusing on how the organisations have worked together to identify and solve a problem using their different skill sets to reach their communities where they wouldn't have been able to do so individually.
1. ECT Charity
2. Mid Devon Mobility
3. The Wolfpack Project
n Making a Difference
An award that recognises an organisation that has gone above and beyond to create new ways to make sure its passengers feel included and supported, with new, innovative, and effective ways to keep passengers' spirits up and keep them connected to their communities.
1. CT4N
2. ReadiBus
3. Merton Community Transport
Commitment to Sustainability
This award recognises the community transport sector's commitment to sustainability and is awarded to an organisation that can show this commitment across its work, and takes into account their approaches to improving sustainability even if the results are still a work in progress.
1. Buchan Dial-A-Community Bus
2. Awel Aman Tawe – Taith Co-op
3. Sustainable Transport Service in Cornwall
CT Champion of the Year
Awarded to an individual at a CT organisation who has gone over and above to champion and support the work of community transport, be they a politician, local community leader, funder, staff member, volunteer, trustee or local business person.
1. Jim Grose – Mid Devon Mobility
2. Sachà Petrie – Taith Coop
3. Rosemarie Darlington – Mid Devon Mobility
4. Angela Perrett – Sprint Community Transport.
Following CT Week, the Association thanked all of those who took part, with a reminder that the sector's work doesn't end there, adding: "The spirit of this week should continue to inspire us to build more accessible, sustainable, and community-driven transport solutions. Keep the conversation going, keep advocating, and keep making a difference in the lives of those who depend on community transport."