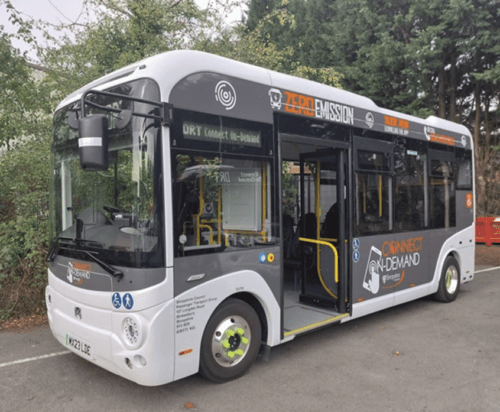 Shropshire's Connect On Demand service uses a Mellor Sigma 7 alongside more conventional DRT minibuses
A new on-demand bus service in Shropshire began operating in late October, initially in two zones, and with plans in place to roll the service out across the county on a zone-by-zone basis. Operated by Shropshire Council, Shropshire Connect On-Demand will replace existing fixed routes 544 from Shrewsbury to Lyth Hill and 546 from Shrewsbury to Pulverbatch, which were fully funded by the council but which are reported to have, over a period of time, seen a reduction in passengers. The new service will also provide links to new residential developments not currently served by public transport.
The service will be bookable by app or by phone, and will pick up and drop off at locations within both zones, with additional drop-off and pick-up points outside of the zones at Shrewsbury bus and railway stations. It will operate from 0730 to 1830hrs Monday to Saturday, with a single fare of £2 for passengers over 19, £1.50 for those aged 5 to 19, and under-5s travelling for free. Concessionary and school bus passes will also be accepted.
Free trial
The first phase of the service will operate free for a trial period until the first week of December, during which the service will operate alongside existing services 544 and 546. In the first week of December the on-demand service will become fully operational, and will fully replace the 544 and 546.
A Mellor 'Sigma 7' 16-seat electric bus will operate in urban areas and offer a new experience for passengers, being the first fully electric bus operating in Shropshire, supplemented by smaller low-emission vehicles from EVM in more rural areas, where the council says they are better suited as they are better able to navigate lanes and roads less suited for larger buses. An electric eight-seat Mercedes-Benz Vivaro will also be used.
Ian Nellins, Shropshire Council's Cabinet member with responsibility for public transport, said: "The start of our new on-demand service is part of Shropshire Council's commitment to reinvigorate public transport in Shropshire and I'm delighted that the new Shropshire Connect On-Demand buses will soon be hitting the roads. For many residents in Shropshire's vast rural areas there are no local transport services to get them to work, leisure activities, medical appointments or college. This service strives to change that and provide a crucial link for residents requiring affordable access to essential services.
"Connect On-Demand will also work in areas not supported by sufficient local bus services, providing them with essential transport to their nearest market town and links to existing local bus/rail services for onward travel. I encourage people to take advantage of the free trial in November to see themselves how the service will operate, and the advantages it offers."