Following a two-year development and testing programme, US supplier Cummins has revealed its first Euro VI Phase-D coach and bus engines.
The newly-updated B4.5, B6.7 and L9 engines – offered with power levels ranging from 150 to 400hp – will enter full production at the company's Darlington plant ahead of the introduction of Phase-D on 1 September.
The enhancements will also apply to the hybrid-adapted versions of the B4.5 and B6.7. as well as stop/start versions.
Revealed to the public at the UITP Global Public Transport Summit in Stockholm, Sweden on 9 June, the new range represents an 'incremental step' towards Euro VII emissions regulations, which are expected to come into force after 2025.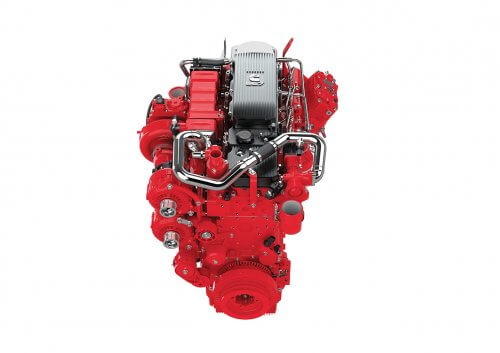 Euro VI-D is especially relevant to buses, Cummins says, as it focuses more on NOx emissions during low-speed city driving and under cold start conditions.
The new regulations also require road test verification as opposed to just lab tests, which has so far revealed a 25% reduction in NOx compared to 2015's Euro VI-A.
Ashley Watton, Cummins Director – On-Highway Business Europe, said: "With exceptionally low NOx emissions, our latest Phase-D products will help bus fleets improve air quality and align with the recent arrival of the London Ultra Low Emission Zone (ULEZ) and other Clean Air Zones (CAZ) being established in cities across Europe.
"To achieve Phase-D certification we focused on the emissions control logic and developed a new algorithm for the management system.
"By refining and retesting the software over a two-year period, we were able to avoid making any hardware change to the engine or exhaust aftertreatment.
"Phase-D development work required a substantial investment by Cummins, but it does mean our customers retain the benefit of a proven product with identical performance to those they experience today. In terms of vehicle integration, this is no need to re-engineer the Euro VI installations as our Phase-D engines offer a seamless, drop-in solution."
You can read more News here: cbwmagazine.com/category/news