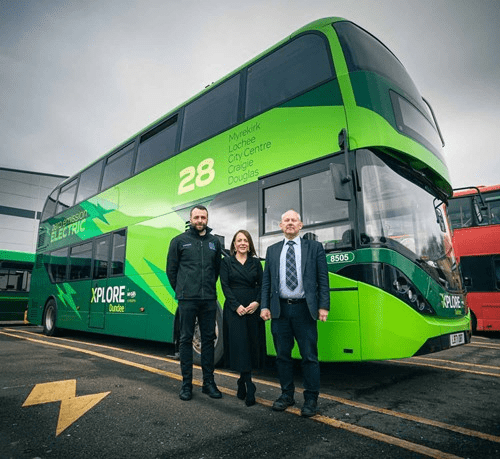 Dundee & Angus College has launched a new heavy electric vehicle training programme for businesses, along with McGill's Bus Services whose technicians will be the first to undergo the training. Having launched its first fully electric route in September 2021, the vocational training provided by Dundee & Angus College aims to give McGill's technicians the enhanced skills needed to safely maintain and repair their electric bus fleet.
Technicians at McGill's-owned Xplore Dundee have already begun their training along with technicians from the firm's Johnstone depot near Glasgow. The training, which encompasses levels 2 and 3 of the heavy electric/hybrid qualifications covering routine maintenance and vehicle system repair and replacement, will be rolled out to encompass technicians from its Inchinnan and Greenock depots in future, the operator said.
Dundee & Angus College already supplies similar training to all three of Scotland's primary emergency services, and the course is recognised by The Institute of the Motor Industry.
Xplore Dundee's Engineering Manager Frank Sheach said: "As part of the McGill's Group, Xplore Dundee has a vision for a cleaner, greener fleet on the city's bus network. Part of that vision is ensuring that our technicians have the highest standard of expertise and knowledge in order to provide the best level of service for the public possible. We are delighted to join forces and work with Dundee & Angus College as our heavy electric vehicle training provider."
Business Partnerships Manager at Dundee & Angus College Caryn Gibson added, "Meeting the training needs of employers, particularly in green skills as we move towards net zero, is very important to us here at D&A College. This is why we have invested into our own team to ensure that we can deliver this heavy electric vehicle training that will most certainly be in demand as the number of electric vehicles on the road and in supply chains increases. We are thrilled to launch the course by working with McGill's and look forward to providing it to many other employers in the future as they make the switch to electric."