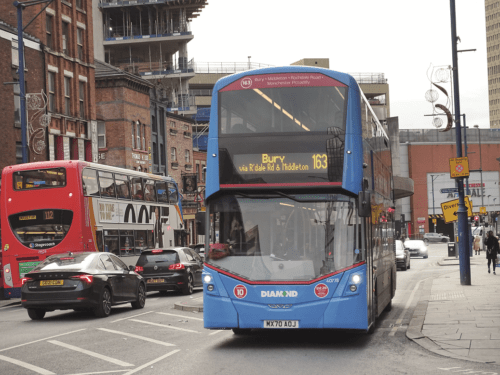 Greater Manchester councillors have stepped-in to secure bus services which looked set to be withdrawn, as operators prepare for the move to a franchised regime. In December, Diamond and Vision registered the withdrawal of services 163, 520, 561, 562, 575, 527 and 21. Since then, Transport for Greater Manchester (TfGM) says it has been engaging with the market to seek a solution.
Following evaluation of responses from operators, TfGM now says that a solution has been found which will see all services retained, subject to final agreements. The services will run to existing timetables except for the 163, which will reduce to every 15 minutes instead of 12. All but the 21 – which Diamond will continue to run – will operate with a subsidy from TfGM, with funding partially coming from money allocated to the city region from the Bus Recovery Grant (BRG) and Bus Service Improvement Plan (BSIP).
Mayor of Greater Manchester Andy Burnham said: "People right across Greater Manchester rely on bus services to go about their daily lives, and so we have taken decisive action – as we did last year – to ensure communities are not cut off. It is really important that people have access to a stable and reliable network, particularly when, in just a few months' time, we start to bring buses under local control for the first time in nearly 40 years.
"We have heard loud and clear the concerns from residents and I hope the announcement today will reassure passengers that their bus service is safe and demonstrates our long-term commitment to investing in, and bettering, public transport through the Bee Network."