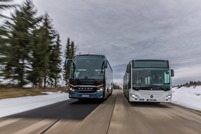 Daimler Buses increased its earnings by 9% to €214m (previous year: €197m) despite a 40% market decline in Brazil.
These earnings include expenses from the restructuring of Daimler Group's dealer network as well as income that resulted from the sale of the investment in New MCI Holdings Inc. in the US.
Return on sales increased to 5.2% (2014: 4.7%).
Overall, Daimler Buses sold 28,100 buses and chassis, down from 33,200 the previous year.
Hartmut Schick, Head of Daimler Buses, said: "Despite the tense situation in Brazil – one of our key markets – we have reached a good result in 2015.
"Through the positive development in the revenue-rich business with complete buses and the momentum from the business with intercity buses in Europe, we managed to successfully buffer the revenue decline in the Latin American business.
"In addition to our strong product range and our technological leadership in powertrains and safety, our continuous measures for improving the efficiency of Daimler Buses are also paying off. We will continue to pursue this course on a consistent basis in 2016 as well. To this end, we are also driving forward with our concepts in the area of innovative mobility solutions and are even forming a dedicated new department for Mobility Solutions."
Daimler Buses increased unit sales in Western Europe by 3% to 7,800 vehicles (2014: 7,600), with a market share of 31%.
The company expects difficult market conditions to continue in Brazil and Latin America, though it expects a slight increase in the market volume for Western Europe. Overall, Daimler Buses is aiming to maintain the previous year's sales.