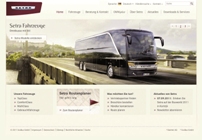 Setra's bus and coach website has been redesigned with a completely new look.
According to Daimler, the new website means "a luminous, friendly, background and a wealth of meticulously-prepared information bring the openness and transparency of the Daimler brand to the foreground with even greater emphasis in this jubilee year of Setra's 60th anniversary."
The main focus of the site is on Setra's three model series TopClass, ComfortClass and MultiClass. A single mouse click allows browsers to study all the relevant technical facts and figures attributed to each individual vehicle in a swift, convenient manner and with a clearly-structured layout.
Large-format images and videos are also used to underscore the exclusivity of Setra products.
Visitors will find current news, new highlights and important quick access links. A navigation bar can conduct visitors to the relevant contacts in customer advice, Setra sales, aftersales and the Omniplus service support section.
In addition to the tried-andtested route planner, visitors have an extensive download and service sector at their disposal where they can download current brochures and data sheets and view and order exclusive offers.
Visit the new website at www.setra.de