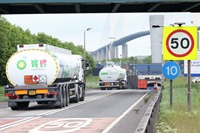 There are now two extra ways to pay for using the Dartford Crossing, Highways England has announced.
The new services are pay-as-you-go, where drivers can register their vehicle and payment details and automatically pay their Dart Charge each time they use the crossing, and Pingit, where drivers can pay for single crossings using the Pingit app on their smartphone, available for iOS, Android and Windows Phone.
The new payment methods are in addition to the wide range of payment options which were introduced after cash payments at barriers were removed last November.
Dart Charge Project Director Nigel Gray said: "The pay-as-you-go option is ideal for people who don't want to have a prepay account but still want to be able to pay the charge automatically each time they use the crossing.
"Pingit is a convenient extra way to pay for single crossings."