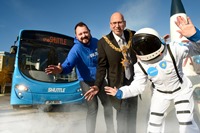 Transdev's buses running between Keighley and Bradford have been given a £400,000 makeover.
The 662 service has undergone a full rebrand in bright blue as The Shuttle, and 16 Wright Eclipse 2-bodied Volvo B7RLE vehicles have been upgraded with new features including USB charging points, WiFi and re-upholstered seats.
The buses have been refitted in house by Transdev's engineering support unit and have all been named after famous space craft, including Apollo, Atlantis, Explorer, Galileo and Pioneer.
The launch of the new look Shuttle took place in Bradford city centre where Transdev staff and customers were joined by characters in space suits and Mayor of Keighley Cllr Javaid Akhtar.
To fit in with the brand theme, a hand-picked dedicated team of drivers exclusive to The Shuttle will work on the route, meaning they can become familiar with their customers. The 45-strong team has undergone in-depth customer and product service training.
Transdev Chief Executive Alex Hornby, said: "The £400,000 investment in the fleet with a space-age specification is just one element of the relaunch package, which we see as a blueprint to extend to other Transdev routes throughout the north.
"We know how highly thought of our drivers are in the minds of our customers and we've now formed a dedicated Shuttle team to improve the customer experience even further.
"The timing of the relaunch has been deliberate to coincide with the opening of The Broadway centre in Bradford which is helping to change the face of the city.
"What's more, our frequent timetable has also been strengthened with later evening departures from Bradford until 1500hrs at weekends.
"The Shuttle continues to grow in popularity with annual ridership increases of over 10%. We look forward to the new package of improvements adding to this success story."
The Shuttle runs every 10 minutes between Keighley, Bingley and Bradford.