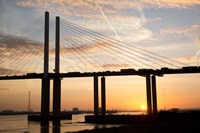 The Highways Agency has announced that new payment arrangements will now come into effect at the Dartford Crossing during late November.
Registration for pre-pay accounts will open in advance of these changes. The full benefits of the scheme will be delivered by the end of April 2015, when all changes to the road layout will be completed.
Testing of the installed website, systems and infrastructure has begun to ensure they operate reliably and are simple to use. The timeframe will make sure that drivers have enough notice to prepare for the changes.
Highways Agency project leader Nigel Gray said: "Dart Charge is a massive change for drivers using the Dartford Crossing and it's only right that it is thoroughly tested before being introduced.
"We want to help drivers be ready for the improvements we're making at the crossing. Drivers will be given plenty of notice before the changes are introduced and will have considerable time to sign up for a pre-pay account, which for most will be the easiest and cheapest way to pay the charge."
Until Dart Charge goes live, the current payment arrangements for the charge will continue – cash at the crossing, through a DART-Tag or local residents account.
Further details about registering for pre-pay accounts will be announced in due course. Operators can find out more information and subscribe for updates on Dart Charge at www.gov.uk/highways/dartford