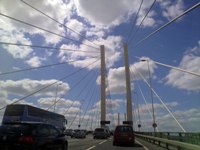 Tolls at the Dartford Crossing will not rise until after April 2012, roads minister Mike Penning has announced. However, charges on the Severn Bridges are set to rise to £6 from January 1.
In September, 11 Kent MPs wrote to the government to oppose the Dartford toll increases which were to have been introduced this month. Penning said in his statement that a final decision on the future timing of toll rises will be announced early next year, as will a response to a consultation report.
The news has been welcomed by the Freight Transport Association (FTA), however it warned that the government's final decision on the timing and scale of future rises must be proportionate and a serious commitment given to invest in reducing congestion for this key piece of infrastructure.
Malcolm Bingham, FTA's head of road network management, said: "Today's news will alleviate some pressure for those thousands of hard-pressed operators using this key piece of infrastructure every day. The proposed 60% hike is astronomical and comes at a time of massive fuel price pressure too. Such a hike is an especially bitter pill to swallow given that the bridge was paid off in 2003. It was after this point that the toll, which was needed to pay off the bridge's construction, should have been abandoned. Instead it was reinvented as a 'road charge' aimed at controlling congestion – although, clearly this hasn't worked.
"In our consultation we expressed the deep concerns of our members – who have no alternative but to use the crossing – about the abruptness of the proposed rises, which would equate to little more than a tax on business. It's highly unlikely that this ready source of income for the Treasury is going to be scrapped entirely, but we would suggest any rise is focussed on cash charges rather than Dart-Tag users, who are more likely to be regular business users. In the meantime, we will continue to impress on the DfT why this 'stay of execution' should become a 'reprieve'."
In a recent survey, 87% of FTA members named the Dartford Crossing as Kent's most costly congestion pinch point.
Meanwhile, in January, crossing the Severn Bridges will cost small goods vehicles and small buses £12.10 – a 60p increase – while heavy goods vehicles and buses will pay £18.10, an increase of 90p.
The Campaign Against Severn Tolls, has been calling for a freeze. Members say the rise is "a bitter pill to swallow."
A spokesman for Severn River Crossing (SRC) plc confirmed the new tolls would come into force on January 1, 2012. "SRC amends the tolls at the start of each new year in strict compliance with the Severn Bridges Act 1992," he said. "The Act sets down the precise method and base prices for setting toll levels and the adjustment to next year's toll levels, like this year, is in accordance with RPI (the Retail Price Index).
"The new toll levels are confirmed each year by a Parliamentary Order made in December which authorises SRC to adjust tolls to the revised levels."