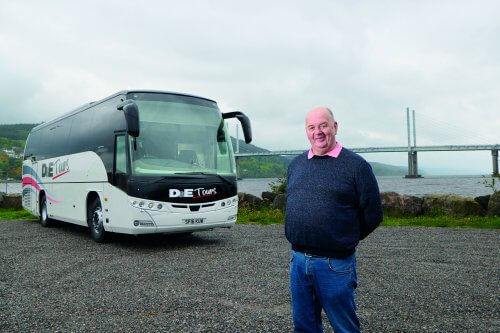 Inverness-based D&E Coaches has announced a new tourism offering providing scenic tours across the Highlands. As the region begins to reopen to visitors after lockdown, D&E Tours aims to provide new links with some of its most popular attractions. As well as running tours to well-known destinations such as Loch Ness, the company has also taken over operations of the hop-on, hop-off Inverness City Sightseeing bus service.
With domestic tourism expected to increase as UK residents look closer to home for holidays in 2021, D&E hopes that its new D&E Tours venture will provide a boost to the local tourism industry, which it said pre-pandemic had attracted almost 12.5 million visitors in 2019 and was worth more than £1.5 billion to the local economy.
Donald Mathieson, owner of D&E Coaches, said: "The Highlands has long been a popular tourist destination and, as people are starting to feel optimistic about travelling again in the summer, we are delighted to be launching D&E Tours to allow them the chance to explore the Highlands in comfort.
"The Highlands is home to some of the country's most stunning scenery and world-renowned attractions, and it is our aim to make these as easily accessible to visitors as possible.
"We're delighted to be running tours to popular destinations, and helping to put newer attractions on the map with visitors who are looking to embrace the history, culture and sights of Inverness and the Highlands."
As well as scenic Loch Ness tours, the Outlander Experience will also allow fans of the Amazon Prime series to follow in the footsteps of Jamie Fraser on a tour that takes in the Highlands' unique history including Culloden Battlefield and Clava Cairns. An evening photography tour will also provide opportunities for those looking to capture the Highlands through a camera lens, taking in picturesque locations like Drumnadrochit and Urquhart Castle.
Chris Taylor, VisitScotland Regional Leadership Director, added: "I would like to wish D&E Coaches all the best with their new venture, which I have no doubt will prove very popular now that we can welcome visitors to the Highlands once again. The tourism industry has been completely devastated by Covid-19, impacting on jobs, people's well-being and future investment, so it is encouraging to hear that businesses are keen to get back to giving our visitors the warm welcome for which we're known and helping them experience the
fantastic sites and attractions of our region again.
"Tourism is a force for good – creating economic and social value in every corner of Scotland and enhancing the wellbeing of everyone who experiences it. We have a resilient tourism industry in the Highlands, sustaining many communities, and we believe tourism will be a key part of the economic recovery."