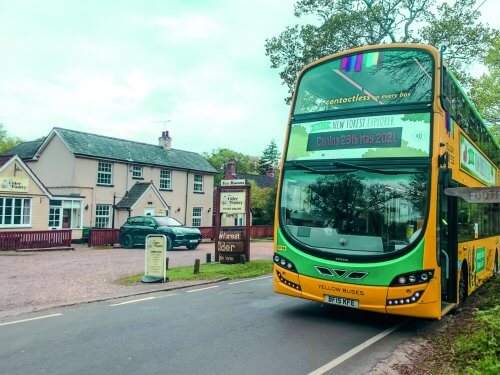 On Saturday 29 May, Yellow Buses launched its new Busters New Forest Explorer, a new tourist route between Christchurch, Highcliffe, Bransgore, Burley and Ringwood, offering views of the New Forest between Bransgore and Burley.
Simon Newport, Yellow Buses' Commercial Director said: "Busters New Forest Explorer is a bus experience, it's a cross between a normal bus route and a tour. Customers will see some of the most fantastic views of the New Forest. The section between Bransgore and Burley, and past Picket Post towards Ringwood are what I would describe as traditional parts of the New Forest, where you can really get the feeling that you are somewhere different!
"You may even get to see some of the New Forest wildlife which ranges from ponies and donkeys to sheep, cows and pigs. All are allowed to roam and will not get out of the road for anyone, let alone a bright yellow double deck bus! "Busters New Forest Explorer is a fantastic addition to our network offering our customers something new. We believe that Christchurch is an excellent gateway from the west to the New Forest and this route enables residents of the conurbation to get out into the countryside."
The new route offers four return trips per day and is will be running every weekend during the summer, and daily in the school summer holidays.