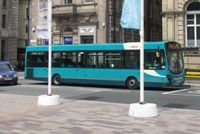 West Yorkshire Passenger Transport Executive sees biggest share, with Merseytravel, Greater Manchester and Southampton City Council following
Eleven local authorities have been awarded grants from the DfT's £5m Clean Bus Technology Fund, which was announced earlier in the year. The funding allows almost 400 buses to be upgraded, reducing pollution in towns and cities across England.
More than 30 local authorities applied for the grants, and their bids were assessed under a number of criteria including impact on air quality, value for money, deliverability and ability to develop the retrofit industry. Winning schemes include a mix of proven technologies, such as Selective Catalytic Reduction and new technologies, like hybrid flywheel which can deliver up to 20% reduction in fuel consumption and emissions.
Local Transport Minister, Norman Baker, said, "The funding we are providing will help clean up emissions from older buses in some of our most polluted urban areas, with all the health benefits that brings.
"This will lead to real improvements in air quality on some of our most polluted streets, as well as help to stimulate jobs and growth in the bus and environmental technology industries. I look forward to seeing how these initiatives are taken forward and to the delivery of real results very soon. I hope other parts of the country will adopt similar measures in the near future."
Environment Minister, Lord de Mauley, added, "This funding boost will bring real improvements to air quality around the country which is good news for the environment and our health.
"I am keen to embrace new technology and encourage local authorities to share their experience so that others can follow suit."
The 11 successful authorities are:
West Yorkshire Passenger Transport Executive: 119 buses, £999,957;
Merseytravel: 59 buses, £818,520;
Greater Manchester, 30 buses, £682,890;
Southampton City Council, 37 buses, £632,700;
Leicester City Council and Leicestershire County Council, 32 buses, £583,520;
Suffolk County Council, 31 buses, £384,028;
Gateshead Council, Newcastle City Council and Nexus, 21 buses, £346,500;
Lincolnshire City Council and City of Lincoln Council, 11 buses, £231,000;
St Albans City and District Council, 40 buses, £142,000;
Cheshire West and Cheshire Borough Council, 8 buses, £128,000; and
Tunbridge Wells Borough Council, 4 buses, £36,000.
The DfT is providing another £5m, match-funded by the Mayor, to upgrade 900 older London buses by March 2014 with exhaust aftertreatment technology. Initial tests show reductions of up to 88% of harmful emissions.