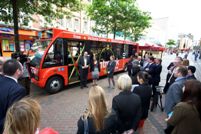 Transport Minister Norman Baker has launched the country's largest fleet of electric buses in Nottingham.
Nottingham City Council has spent more than £1.6m on eight electric buses, four of which will replace existing diesel buses on centrelink, the free city centre shuttle operated by trent barton. The remaining four are to be phased in at a later date.
The Optare Solos were partfunded with a grant of £760,320 from the DfT's Green Bus Fund, with the remainder coming from the council's own coffers. They have a capacity for 37 passengers.
Norman Baker said: "Nottingham's dedication to providing a sustainable and accessible public transport network has really impressed me.
"I have visited the city on a number of occasions and I am pleased to be back to launch the city's new green bus fleet."
The new buses will help the city council meet its target of reducing the city's carbon emissions by 26% by 2020.
Jeff Counsell, trent barton Managing Director, said: "trent barton is proud to be part of yet another ground-breaking development in Nottingham's World Class public transport city."
Last month, the Campaign for Better Transport voted Nottingham as one of the country's least car-dependent cities for a second successive year.
In 2008 Nottingham was the first city in the UK to trial ethanolfuelled buses on its Ecolink service. Electric and hybrid buses are soon to be introduced on the council-run Medilink service.