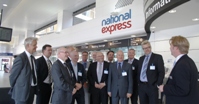 Norway's well-known coach operator – Nettbuss – visited Birmingham Coach Station last week to learn more about leading industry practices from National Express.
Hosted by Eurolines Managing Director John Gilbert, the party of 11 senior transport leaders was given a tour of the £15m Birmingham Coach Station and an overview of the business model, technology and customer service innovations introduced to the UK by National Express. This included a demonstration of the style of accessible vehicle now used in Britain, ticket machines and the style of marketing used to encourage new customers to try coach.
Stale Nistov, Director of Business Development for Nettbuss, said: "We are keen to grow the coach market across Norway and Sweden and asked National Express for a meeting to better understand their business model. It's interesting to learn about the industry leading innovations currently being delivered to the UK coach market and how this is encouraging more people to travel.
"We are particularly impressed by the facilities National Express has invested in. Birmingham Coach Station is an example of the standard coach passengers should receive across Europe to help us compete with the railways."
The Norwegian team was also given a demonstration of the company's Icomera vehicle tracking system, which allows National Express to pinpoint the exact location of every coach as well as monitoring their speed and internal temperature in real time.
Commenting on the visit, John Gilbert, said: "We're delighted Nettbuss could join us for a tour of Birmingham Coach Station and discussion around the future of the coach industry in Britain and Europe. We believe coach has an increasingly vital role to play in providing affordable, environmentally friendly transport and we wanted to highlight the opportunities and issues around growing coach patronage across Europe. A key part of this is improving the quality of passenger facilities at major interchanges and sharing best practice to achieve modal change."