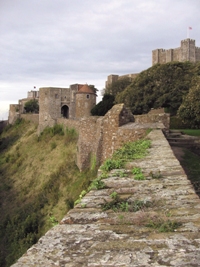 Dover Castle has a long and eventful history. It is situated in a strategic position, at the gateway to Great Britain from continental Europe. Fortification of the site occurred as early as the Iron Age, even before the first Roman settlers arrived and built two 80-foot lighthouses in AD43, one of which is still standing. Shortly after his victory at Hastings in 1066, William the Conqueror had the site converted into a Norman earthwork and timber-stockaded castle.
With Dover becoming a garrison town in the Napoleonic Era, there was a need for barracks for the additional troops garrisoned there. The solution adopted was to create a system of tunnels about 15 metres below the cliff top, with the first troops accommodated there in 1803. At the height of the Napoleonic Wars, the tunnels housed more than 2,000 men. To date they are the only underground barracks ever constructed in Britain.
The outbreak of the Second World War in 1939 saw the tunnels converted first into an air-raid shelter and then later into a military command centre and underground hospital. In May 1940, Admiral Ramsey directed the evacuation of French and British soldiers from Dunkirk, code-named Operation Dynamo, from his headquarters in the cliff tunnels.
Visitors today can experience the atmosphere, sounds and smells of the underground hospital with its operating theatre. Follow the dramatic story of an injured pilot fighting for his life, told with exciting audio-visual effects, and discover what life was like for the men and women working in the tunnels during Second World War.
Groups are welcome and coach parking facilities are available at the top of Castle Hill, 800 metres from the entrance. There is 15% discount for groups of 11 or more visitors with free entry for coach driver and tour leader. Advance booking is not required.
For further information, visit the website's groups page.