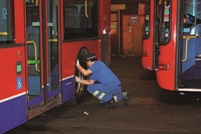 HSE runs the risk of alienation if new charging proposals are adopted – says FSB
Proposals to charge small firms for 'material' faults found during inspections by the Health and Safety Executive (HSE) could damage relationships and may be seen as a way to raise revenue rather than improving compliance, says the Federation of Small Businesses (FSB).
The HSE proposes to extend its current systems of cost recovery to include a fee for intervention where an inspector charges for the inspection and any subsequent actions when a material fault has been found. The HSE estimates for an inspection resulting in a letter, the cost to business could be at least £750.
For a small or micro business, a bill of £750 or more for a material fault could be extremely damaging, especially during difficult economic times. The proposal currently states micro firms will in general receive the same level of fees as large businesses. This will disproportionally affect micro firms as fees of this level will have a greater affect on the ability of the business to function and grow.
The FSB is concerned small firms may view the proposal as a revenue generating exercise which could damage the HSE's relationship with business. The proposal fails to clarify whether money raised would go to the HSE or the Treasury. The FSB believes, if it goes to the HSE, small firms could fear their inspection has been influenced by the need to raise money – especially as the context for this consultation is a 35% budget cut to the HSE.
It is important businesses have a good working relationship with the HSE to allow them to ask for help and support to ensure they achieve compliance. With the possibility of a hefty fee over their heads they may be less likely to want to ask for help and compliance may suffer.
Furthermore, those businesses wishing to challenge the result of inspections may have to cover the whole costs of the dispute if their complaint is not upheld.
The FSB is concerned many businesses will feel pressured to pay the fees and not appeal even if they have just cause due to the potentially large and undefined costs of a dispute process.
John Walker, National Chairman, Federation of Small Businesses, said: "The FSB has a real concern about these proposals as they stand. Not only could they add to the fear that many small businesses have about health and safety regulation, but could have a serious impact on their relationship with the inspector, which if positive can help compliance to the benefit of the business and society.
For more information visit www.fsb.org.uk