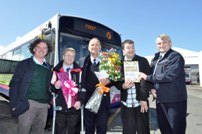 The award recognises customer care given to people with learning disabilities in Cornwall
First Plymouth driver Gino Contrino was recently given an award for his customer care for people with learning disabilities by charity People First Quality Checkers, based in Devonport Guildhall. The Above and Beyond award recognises the work he has done to make a positive difference to the lives of people with learning disabilities in Cornwall.
The project is part of the charity Cornwall People First and monitors the quality of services which people with learning difficulties receive.
Gino, who has worked for First for 26 years, was surprised by his colleagues and representatives from the charity with a certificate, gift and an invitation to a formal awards ceremony in July.
Gino said: "I felt very honoured and touched to have won this award because there are a lot of great drivers here in Camborne.
"I love my job and enjoy getting to know all of my regular passengers, sharing a joke and a laugh — just being friendly really. For some of our more vulnerable passengers I know what a difference a smile and a chat can make, so I do what I can, when I can. I'm proud to have won one of their first awards and I hope that it will continue to inspire more people throughout Cornwall and the South West to achieve higher standards of customer care for those with learning disabilities."
Robbie Lamerton, First Devon and Cornwall's General Manager, said: "We often get compliments from customers about times when drivers have gone over and above the call of duty, but this is not the first time Gino has been recognised for his great customer service. It's brilliant to have his great attitude and nature recognised again in this way, raising awareness of the extra consideration that people with learning disabilities sometimes require."