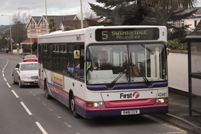 The £2.8m sale, if approved, will include Barnstaple battleground and take place this summer
FirstGroup has signed an agreement with Stagecoach to sell off its North Devon operations, pending approval from the Office of Fair Trading (OFT), for £2.8m.
If the sale is approved, the transfer of operations under First's Devon & Cornwall subsidiary to Stagecoach South West will take place in the summer and include approximately 30 vehicles, which operate on 10 routes in North Devon, First's depot facility in Barnstaple and all staff of around 100 in their existing roles.
Barnstaple has been something of a battleground between the two groups, with Stagecoach running services from a Barnstaple depot since 2006. First said the decision "reflects our plan to keep the shape and size of our operations under review". "Although these are difficult decisions, the actions we are taking now will help us to better position the UK Bus business for the future.
"Our decision is therefore a business-driven one and does not reflect on the effort, commitment or individual performance of the staff in North Devon. We will be fully supporting them as they transfer to their new employer."
Commenting on the decision, Tim O'Toole, First chief executive, said: "The sale of our North Devon operations marks a further step in our programme to pursue selective asset and business disposals as part of our strategy to review the scope of our business as we position our UK Bus division for the longer term. We remain focused on developing the opportunities which exist to transition to increased growth within our networks through investment in staff, systems, new vehicles and technology while retaining our strong cost discipline." Les Warneford, MD of Stagecoach UK Bus, said: "Stagecoach has a long tradition of operating high quality services for people in the southwest of England and attracting people out of their cars.
"We believe our acquisition of the North Devon business would deliver a more sustainable combined bus network for the long term. It would protect and improve services for the local community, help support future investment in better vehicles and offer good value fares for customers."
Speaking at the launch of First's new manifesto and localised approach, Giles Fearnley, First UK Bus MD, referred to an imminent disposal: "not a huge one" and one which "won't surprise anybody when announced" (CBW1021).