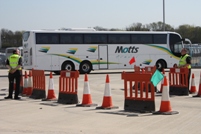 A newly-designed driving test is among the enhancements planned for this year's UK Coach Rally which takes place at the East of England Showground at Peterborough on April 21-22. The organisers are anticipating stiff competition for the six-minute driving test which comprises six sections: width test, garage, reversing over a pit, tyre pad, parallel parking and bullseye. The rules and regulations have also been updated including the penalties for infringements.
Entries for the coach rally currently stand at 52. With a number expected to confirm their attendance soon, the organisers are still anticipating beating last year's total of 65 entries.
Further sponsorship for the rally has been secured with Wrightsure Insurance backing the top two trophies – UK Coach Rally Coach Driver of the Year and UK Coach Rally Bus Driver of the Year.
"We're also pleased to confirm that Scania UK have now agreed to join Volvo and Plaxton in sponsoring the UK Coach Rally," said Paul Cousins, organiser.
Bookings for the Saturday evening dinner dance are still available but prompt booking is advised.
In addition to the rally and driving tests, the event also includes a return of the display of vintage vehicles, trade stands and indoor exhibitors from CPT's supplier members, supported by live displays from the West Midlands Safari Park.
Call 07885 825133. www.coachdisplays.co.uk