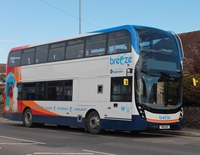 New fleet features free WiFi and USB charging points
Stagecoach has invested £2.6m in a fleet of new double-decker buses in Thanet.
The 13 new vehicles were introduced on the 'Breeze' route between Broadstairs, Margate and Canterbury on Monday, April 11. The Breeze route carried 1.9 million passengers in 2015, Stagecoach claimed.
The Alexander Dennis (ADL) Enviro400-bodied Scanias have Euro 6 engines and employ an after-treatment system, developed by Scania, which reduces particle emissions by 99% compared to the previous design standard.
Seating comes in the form of high-back moquette fabric seats. Each bus is equipped with air-chill technology which maintains a comfortable interior temperature through all seasons, and the vehicles are also specified with tinted windows to reduce the build-up of heat inside.
The buses feature free WiFi and USB charging points for customers to recharge their smart devices while travelling. On the outside, the buses sport an attractive design which features some of Thanet's most popular landmarks.
The Breeze route 8, 8A and 8X buses run up to every 15 minutes Monday to Saturday and every 30 minutes on Sundays.
The new fleet has arrived less than three years after Stagecoach invested £3m in new buses for the Thanet Loop.
Stagecoach South East Managing Director, Philip Norwell, said: "This investment represents the next stage of enhancement in an area that continues to see more and more people choosing to use the bus.
"We know that providing a quality bus service doesn't just mean comfortable seats. These new high-spec buses will contribute to our customers' overall journey experience as well as reducing our impact on the environment."